India Beef Ban In Maharashtra State Approved By President Pranab Mukherjee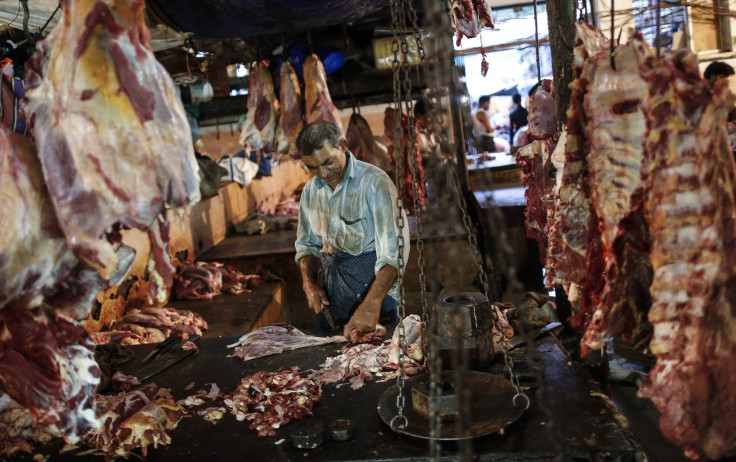 India's President Pranab Mukherjee has approved an amendment Tuesday that would ban beef sales and possession in the state of Maharashtra. The president gave his assent to the Maharashtra Animal Preservation (Amendment) Bill that was passed in the Maharashtra Assembly in 1995 but did not receive presidential approval until Tuesday. "Thanks a lot Hon. President Sir for the assent on Maharashtra Animal Preservation Bill. Our dream of ban on cow slaughter becomes a reality now," tweeted Maharashtra Chief Minister Devendra Fadnavis on his official Twitter account.
While the killing of cows was prohibited in the state under the Maharashtra Animal Preservation Act of 1976, beef was still available from the slaughter of bulls and bullocks, permitted on a fit-for-slaughter certificate, according to Indian news site Indian Express. The new bill will ban the slaughter of bulls and bullocks, permitting only the slaughter of water buffaloes, which provides "carabeef," seen as inferior to beef and only making up a quarter of beef sales in the state. Those found to be in possession or selling beef could be fined 10,000 Indian Rupees ($162) or jailed for up to five years.
Muslims in the state comprise the largest consumers of beef. "Apart from rendering people jobless, the immediate effect will be the spiraling price of other meats as people will be forced to gravitate to them," said Mohammed Qureshi, president of the Mumbai Suburban Beef Dealer Association, according to Indian Express.
The hashtag #BeefBan was trending on Twitter as users in India began expressing their reactions on the ban. Opinions supporting the ban were just as vocal as those opposed to it, though some Indian Twitter users were unsettled that the protection for cows and bulls were stronger than that for women against harassment in the country.
"We are now holding deliberations to see if we can challenge this in any way. The beef traders have been impacted but it will be the farmers who will be affected the most," said Arif Chowdhury, an office bearer of the All India Jamiatul Quresh, an organization of beef traders, according to Indian Express. He wondered, "Who will care for the old and infirm animals that were earlier sold for meat?" India is the second-largest exporter of beef after Brazil, according to NDTV.
Restaurant owners serving beef will undoubtedly be negatively affected. "This is extremely sad to hear. I will have to go to another country. Most of the dishes at the restaurant are based on European cuisine," said Glyston Gracias, a chef at Smoke House Deli in Mumbai, according to Indian Express. "A lot of our foreign clientele, such as Japanese and Europeans, will miss beef on the menu. We will also lose out on alcohol sales because beef and beer go really well. I will find it difficult to do international cuisine," Gracias said.
© Copyright IBTimes 2023. All rights reserved.