India Ignores Ukraine's Request To Invite Zelensky To Address G20 Summit
KEY POINTS
Ukraine's First Deputy Foreign Minister urged India to allow Zelensky to address the summit
Despite the plea, India remains non-committal to Ukraine's G20 participation
India may be trying to stop the Ukraine conflict from overshadowing its own agenda
India has remained non-committal to Ukraine's request for its president to address the G20 summit, which was made by Ukraine's First Deputy Foreign Minister Emine Dzhaparova in New Delhi last week.
Dzhaparova, the first high-ranking Ukrainian official to set foot in India since Russian forces invaded Ukraine, urged New Delhi -- which holds the current presidency of the Group of 20 world economies -- to consider giving Ukrainian President Volodymyr Zelensky a platform to address the summit in September.
India has not condemned Russia for its aggression, has followed a path of non-alignment over the issue while also extending humanitarian aid to Kyiv.
"People in Ukraine are watching very closely what world leaders are saying. We have watched Prime Minister Narendra Modi speak on the issue and how the Indian National Security Adviser has made three trips to Moscow ... We hope that they will travel to Ukraine as well," said Dzhaparova.
"Ukraine really wants India and Ukraine to come closer," she added.
Zelensky had addressed the last G20 summit in Indonesia's Bali over a video link, following a special invitation from then-host Indonesia, and Dzhaparova expressed the wish to get a similar opportunity this time round too.
But when India's external affairs ministry spokesperson Arindam Bagchi was asked about Dzhaparova's remarks, he said no changes had been made to the invitee list, pouring cold water over Ukraine's hopes. He also referred to previous remarks made by Foreign Secretary Vinay Kwatra.
"As far as Ukraine's invitation is concerned, see, during the presser that we did at the time of the launch of the G20 presidency, it was made clear as to which nations are invited as guests, including obviously, the G20 members," Kwatra had told reporters last month."We have not made any changes or addition to that list."
Bagchi was asked whether India's non-commital toward Ukraine's participation at the summit is a display of its "unbalanced" position on the Russia-Ukraine conflict as Dzhaparova had remarked during her visit.
"Our position on the conflict in Ukraine has been articulated many times, Bagchi told reporters. "I do not know the word unbalance ... is not something that we have worked with. We certainly worked toward peace and dialogue and diplomacy. It is what we have been stressing," he said.
Apart from the G20 member countries, India has invited Bangladesh, Egypt, Mauritius, Netherlands, Nigeria, Oman, Singapore, Spain and the UAE as special guests at the summit.
"There are nine other observer states that have been invited, keeping in mind the role India has taken as a bridge between the developed and developing countries the 'East' and the 'West.' There is already an established agenda for the G20, and as a recent source stated, guest countries are decided in keeping with this," Trisha Ray, deputy director of the Centre for Security, Strategy and Technology at the think tank ORF, told International Business Times.
In the run-up to the summit, India has made efforts to stop the Ukraine war from superseding its own agenda -- issues of the Global South. India highlighted the economic aspect of the G20, which is a body designated as the "premier forum for international economic cooperation," according to its website.
"India appears to emphasize this economic aspect of G20 and cautiously tries to avoid entering into politically muddy waters like the war in Ukraine. It has made an effort to detach the war in Ukraine – an issue significantly of geopolitical and big power rivalry – from major international economic issues of the Global South such as global poverty and sustainable development," Debidatta Aurobinda Mahapatra, Professor of Political Science at Florida State College at Jacksonville, told IBT.
"India's unwillingness to directly involve in the conflict is caused by its desire to focus on its national interest," he furhter added. "Certainly, it wants to rise as a leader of the Global South and make most from its chairmanship of the grouping, and even make peace and moral pronouncements, but without directly committing to contentious issues like Ukraine, as it will likely jeopardize its core national interests."
While the G20 guidelines — focusing on global economic and financial issues — partly contribute to India's non-commital to Ukraine's participation in the summit, India's traditional ties with Russia and its dependence on the country for arms and energy also cannot be ignored.
"This relationship is significant to India's economy and security preparedness. India has tried to diversify its military and economic cooperation with other countries, and to some extent it has been successful, but it will be difficult on its part to completely shrug off its traditional relations with Russia," Mahapatra said.
"An invitation to the Ukrainian leader might pacify Europe and the U.S. and Ukraine, but it will certainly irk Russia and undermine their partnership," he noted.
Although India can try to stop the Ukraine conflict from overshadowing other issues at the G20 summit, it "cannot completely avoid the Ukraine issue at the G20 precisely because it is not just a local conflict but a protracted crisis that implicates the G20's mandate," said ORF's Ray.
"The G20 is not the place to 'solve'" the Ukraine crisis, "but India has a responsibility to build consensus, even as it navigates its relationship with individual members," she added.
While India might avoid another "Bali moment" from last November when Zelensky virtually addressed the summit, it is possible that "the summit statement would make a generic appeal for peace in Ukraine," Mahapatra said.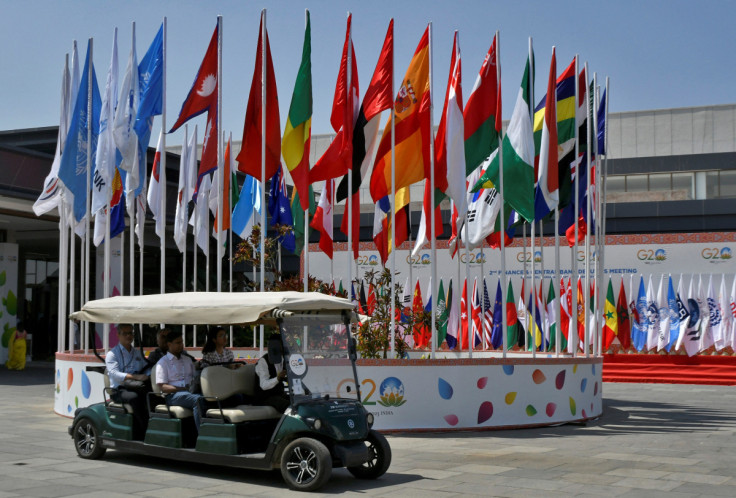 FOR FREE to continue reading
✔️ Unlock the full content of International Business Times UK for free
offer available for a limited time only
✔️ Easily manage your Newsletters subscriptions and save your favourite articles
✔️ No payment method required
Already have an account? Log in
© Copyright IBTimes 2023. All rights reserved.