India, Japan Sign Deal That Aims To Bring 'Resilience' To Semiconductor Supply Chain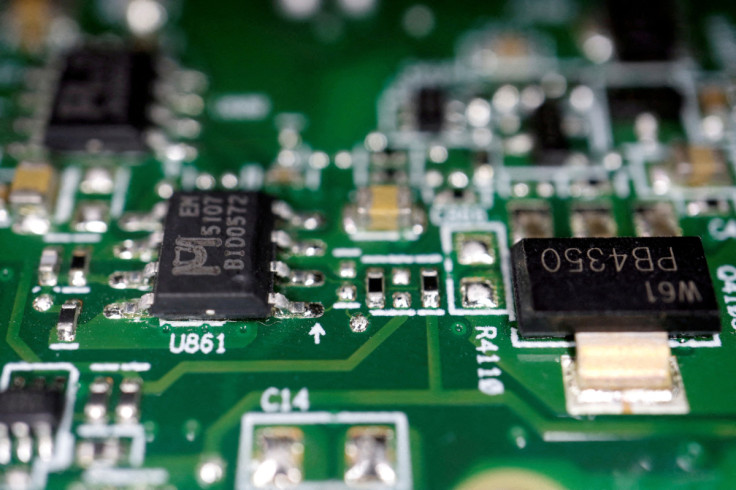 KEY POINTS
India's Union Minister for Electronics and IT Ashwini Vaishnaw and Japan's Minister of Economy, Trade and Industry Yasutoshi Nishimura signed an MoU
Japan is the second Quad partner after the U.S. to sign such an agreement with India for the joint development of the semiconductor ecosystem
Some question whether such efforts are enough to fulfil India's big dreams of becoming a global chipmaking hub
India has shaken hands with Japan on a new partnership that is aimed at bringing "resilience" to the semiconductor supply chain.
India's Union Minister for Electronics and IT Ashwini Vaishnaw and Japan's Minister of Economy, Trade and Industry Yasutoshi Nishimura signed a memorandum of understanding (MoU) last week for the joint development of the semiconductor ecosystem, making Japan the second Quad partner after the U.S. to sign such an agreement with India.
The MoU is on five fronts — "semiconductor design, manufacturing, equipment research, talent development and bringing resilience to the semiconductor supply chain," Vaishnaw said.
Japan is among the top five countries to have a semiconductor ecosystem and is home to global leaders in the industry in addition to some 100 semiconductor manufacturing plants.
"If we can bring this base to India, it will be a big milestone," Vaishnaw added.
New Delhi has big ambitions in chip manufacturing and hopes to attract big players in the sector to set up shops in India to boost the country's own manufacturing capabilities. However, the country's present share in the global semiconductor supply chain is negligible, which could mean that India might have to spend years playing catch-up while other countries like the U.S., China, Taiwan, Japan and others are miles ahead in the race.
"The MoU with Japan is just another sapling in the forest that India is trying to create. Unless followed up with specific industry-level collaboration and groundbreaking of manufacturing or supply chain units in India based on that collaboration, the MoU will be just a piece of paper serving only some media publicity," semiconductor analyst Arun Mampazhy told International Business Times.
As the world becomes increasingly dependent on electronics, India's mission to become a frontrunner in chipmaking is part of its overarching mission of being a global hub for electronics and manufacturing. But India is currently at level zero in the semiconductor industry and needs consistent efforts to fulfill its mission, according to an SBI Research report.
India has not yet made much progress in setting up semiconductor fabrication plants (or fabs), while Japan has managed to make some notable strides, Mampazhy explained.
"For Silicon fabs in the 12nm-28nm range, Japan too is a newbie and a potential future competitor to India. Japan perhaps started planning incentives for chip fabs months or years after India started thinking about it, but already did the groundbreaking for 'Japan Advanced Semiconductor Manufacturing, Inc' (JASM) which is a collaboration between Japan-based companies Sony, Denso and world's biggest foundry which is Taiwan Semiconductor Manufacturing Company (TSMC). There are also reports of more fabs planned in Japan including the 2nm effort by Rapidus. India however is yet to do groundbreaking for even a single commercial Silicon fab," Mampazhy said.
India's recent developments in the semiconductor industry included U.S.-based Micron Technology announcing plans to build a new assembly and test facility in the Indian state of Gujarat.
Applied Materials, a U.S. semiconductor toolmaker, also announced plans to invest in a new engineering center in the Indian city of Bengaluru.
These efforts may remain insufficient to put India among the biggies in the semiconductor industry, Mampazhy believes.
"The micron unit approved is only a packaging and testing facility for chips and will not fabricate the chips. It also does not have any Indian ownership. There is decades of efforts left to make India even a 1-2% player in the global semiconductor industry," he added.
While friend-shoring is one of India's strategies to build its own domestic capabilities, Mampazhy noted that manpower is the main contribution India makes to big global chipmakers that decide to expand to India.
"India's so-called semiconductor design strength is mostly only to provide manpower — in most cases for chip design companies headquartered outside India. Chip design companies which are more than 50% owned in India are small in number. Their combined annual revenue is estimated to be about $20-30 million, while the global semiconductor design revenue will run into 100s of billion dollars. In general, India's product development capability in this area has also been minuscule," he said.
Factors that work in India's favor include current geopolitical disruptions in the world order and the changing U.S.-China ties. China and Taiwan enjoy significant shares in the world's semiconductor industry. But as tensions rise between Washington and Beijing and as fears of military conflict in Taiwant loom, India is an attractive alternative to the U.S.
Furthermore, the ever-growing domestic demand for electronics in India could also help fuel the industry. India Electronics & Semiconductor Association (IESA) and Counterpoint Research said India's current trajectory poses the semiconductor market to rise to $64 billion by 2026. It was valued at $22.7 billion in 2019.
"With India's semiconductor market projected to soar to a staggering $64 billion by 2026, it offers an exceptional opportunity for global semiconductor manufacturing. This tremendous growth, as indicated by the joint study conducted by the India Electronics & Semiconductor Association (IESA) and Counterpoint Research, reflects the country's dedication to diversification and self-sufficiency in the face of increasing semiconductor demand worldwide," Counterpoint Research, a global industry analysis firm, said in a statement to IBT.
Counterpoint Research believes India's semiconductor industry will become the "linchpin" as tech sectors grow in India, a country that is already among the world's largest electronics manufacturers.
"India's rapid ascent to becoming the largest economy, both in terms of population and potential technology sectors, positions it as the vital 'linchpin' in the semiconductor industry. With 'telecom stack' and industrial applications predicted to drive two-thirds of the total market, India is demonstrating remarkable progress and potential in this crucial sector," Counterpoint Research's statement said. "Already the second-largest electronics manufacturing destination, with major players and technology companies producing smartphones and other electronics for domestic and international markets, India's growth is further fueled by the government's support through Production Linked Incentive (PLI) schemes."
"The projected landscape solidifies India's position as a force to be reckoned with in the semiconductor landscape," the statement added.
© Copyright IBTimes 2023. All rights reserved.