Indian Police Use Water Cannons To Disperse Protesters Objecting Uttar Pradesh Gang-Rape Case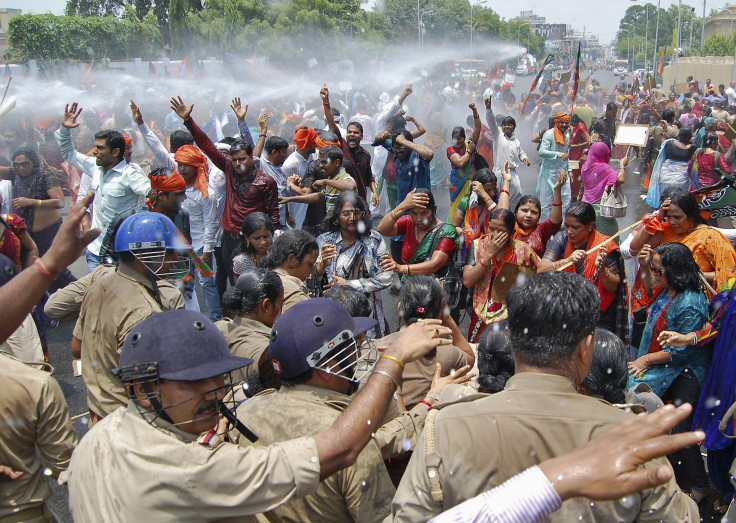 Indian police in the northern state of Uttar Pradesh used water cannons on people protesting against the rise of sexual crimes on women in the state while the Modi-led government in New Delhi said that it will intervene in the matter when the state's governor sends a report about the latest incident of the gang rape and murder of two teenage girls.
The protesters from the women's wing of the ruling Bharatiya Janata Party gathered outside the office of Akhilesh Yadav, the state's chief minister, following the rape of two cousins, aged 14 and 15, in the small village of Badaun last week, which triggered a fresh outcry about the law and order situation in the country, and the handling of the case by local authorities. Police reportedly used water cannons to disperse the crowd when the marching protesters closed in on Yadav's office but protesters reportedly claimed that police personnel manhandled them.
"We're not going to sleep, we'll be here, they have to stop this [violence against women]," a protester told NDTV, a local news channel, adding: "We're going to stay here, we're not going to give up," before being hit by the water cannons.
Authorities have approved a compensation of 500,000 rupees ($8,451) for each of the girl's families. And while several leaders from different parties have visited the village and the family members of the girls, criticism has welled up against Yadav who has not yet paid a visit to the area.
"It is sad that the UP CM has not come even for a visit. He is either scared or he does not care," Ram Vilas Paswan, the consumer affairs minister, who paid a visit to the village Monday said, according to DNA, a local news source, adding: "It's a shameful incident, people are scared."
Yadav has also been criticized for responding insensitively to a female journalist who questioned him about women's safety in the state. "You haven't been harmed, have you? No, right? Great. Thank you," he reportedly said.
The girls went missing after they left their houses last Tuesday night to relieve themselves in the open, following which the parents lodged a complaint reporting them to be missing. They were found hanging from the branch of a tree in the village the next day and the police reportedly took more than 24 hours to respond to the missing complaint.
"Had the cops acted timely and did not showed laxity, lives of the girls would have been saved. They were hand in glove with the accused," the father of one of the victims, said according to PTI.
In the following days, the local police arrested five people, including two policemen, of which two men reportedly confessed to the crime while two others remain missing.
© Copyright IBTimes 2023. All rights reserved.