Indian President Sweden Car Accident: Pranab Mukherjee's Convoy Crashes In Swedish City Of Uppsala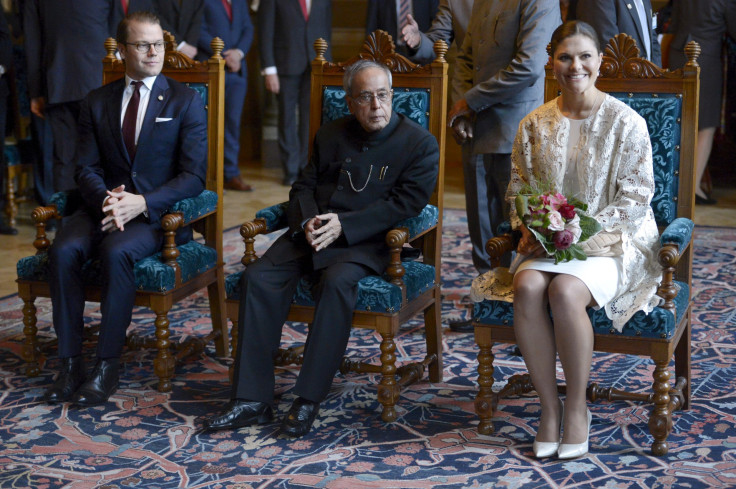 The president of India was one of several people involved in a multiple-vehicle accident Tuesday while riding in a four-car convoy in Sweden, according to a new report. Indian President Pranab Mukherjee was reportedly traveling in the city of Uppsala with Sweden's Crown Princess Victoria and her husband, Prince Daniel, when the crash occurred, leaving six people injured, the Local in Sweden reported.
Mukherjee, 79, was not among those hurt, and it was unclear how severe the car crash was or what caused it. "The president was not injured, but I have no information on which people were," Tommy Karlsson, a public information officer for the local police department, told the TT news agency, according to the Local. Crown Princess Victoria and Prince Daniel were also reportedly unharmed.
The Indian president was in Sweden for a historic visit to the European country that included meeting with top Swedish officials and touting his "Make in India" initiative that would make e-visas available for Swedish nationals in India, NDTV reported Tuesday.
Prior to Tuesday's car crash, Mukherjee and the royal Swedish couple were at Uppsala University, where the Indian president delivered a speech, though the topic of the speech was unclear. Mukherjee, who has been in Sweden since Sunday, was scheduled to leave Tuesday for Belarus. Though he was not injured in the crash, it was not immediately clear if he planned to continue his travels through Europe. Mukherjee's itinerary had him staying in Belarus through Thursday, at which point he was expected to return home to India.
In addition to promoting the "Make in India" initiative, Mukherjee earlier during his visit to Sweden signed several agreements with the Swedish government, including a memorandum of understanding on Cooperation in Sustainable Urban Development that would provide for a dialogue between the two countries on various issues concerning urban development, according to India TV News.
© Copyright IBTimes 2023. All rights reserved.