India's Biocon Reports Profits Rise 14% In September Quarter Beating Expectations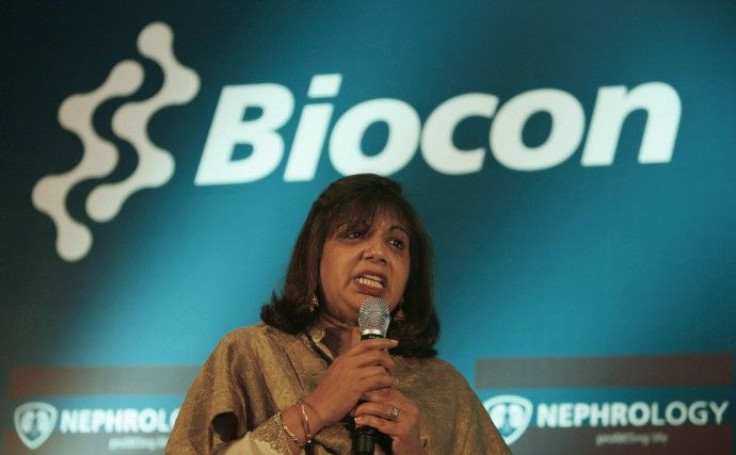 Indian biopharmaceutical company Biocon Ltd (NSE:BIOCON) recorded a 14 percent rise in net profit in the September quarter compared to the same period in 2012, driven by a growth in emerging markets and a strong performance by its research services arm, despite being weighed down by a steep plunge in the value of the rupee in the foreign exchange market.
The Bangalore-based company recorded a net profit of 1.02 billion rupees ($16.6 million) to beat net profit expectations of 925 million rupees, and recorded total revenues of 7.53 billion rupees in the September quarter. In the first half of the current fiscal year, the company reported revenues of 14.68 billion rupees and an after-tax profit of 1.96 billion rupees.
"Immuno-suppressants and Insulins continue to drive growth. This is in part bolstered by capacity expansion of our Insulins plant. Our bio-similar pipeline partnered with Mylan, continues to progress well and we anticipate Indian regulatory approval for our biosimilar Trastuzumab in the near future," Kiran Mazumdar-Shaw, Biocon's chairman and managing director, said in a statement on Thursday.
In August, Biocon had launched its first biologic drug for the treatment of chronic psoriasis in India -- Alzumab -- expected to serve about 1 percent to 2 percent of India's population estimated to suffer from the ailment. The company said at the time that it is planning to launch the drug in the U.S. and that it has short-listed a few companies for potential partnerships.
Biocon, which is investing about $200 million in a manufacturing plant in Malaysia in an effort to move part of its operations out of India due to the unreliability of local power and water supply infrastructure, saw a 30 percent year-on-year growth in its contract research segment in the September quarter, driven by a strong momentum in manufacturing services.
The company said its outlook for the current fiscal continues to be positive adding that its current capital expenditure commitments including the insulin plant in Malaysia are on track. Biocon's development portfolios, which includes biosimilars and novel molecules as well, "has moved further along the development cycle, and some of them will move into clinical trials shortly," the statement said.
Biocon shares were down 0.51 percent at 338.90 as of Friday morning on the NSE index.
© Copyright IBTimes 2023. All rights reserved.
FOLLOW MORE IBT NEWS ON THE BELOW CHANNELS