India's Gold Imports Expected To Rise As RBI Relaxes Importing Norms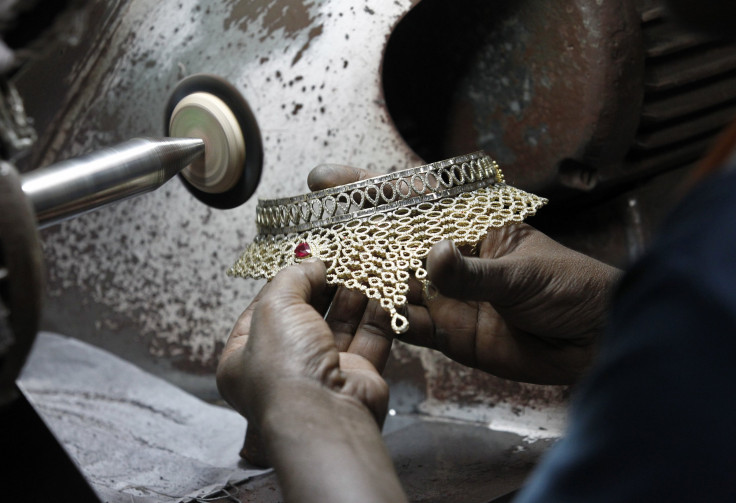 India's gold imports are most likely to increase after the Reserve Bank of India, or RBI, on Wednesday relaxed norms for importing gold for select trading companies.
Inbound shipments are expected to increase by 10 metric tons to 15 metric tons a month, after the central bank allowed some major trading companies to import gold under what is called the 20:80 rule, and allowed banks to issue metal loans to jewelers. An import duty of 10 percent will continue to be levied by the RBI, which will require the companies to pass on 20 percent of the imported bullion to jewelers for exports. Last year, the RBI had imposed restrictions on gold imports to rein in the country's current account deficit.
"Supply will increase, bringing down the prices and premiums in the local markets and we will see demand improving," Bachhraj Bamalwa, a director with the All India Gems & Jewellery Trade Federation, said according to Bloomberg, adding that, in the next 15 days, the fees that jewelers currently pay to banks and dealers will fall to between $40 to $50 an ounce over the London cash price from the current $90.
Although importers sell off 80 percent of the imported gold in the domestic market, the companies have to export 20 percent of the imports before they can submit another import order.
"The jewelry companies will benefit as their working capital will be better, interest costs will be reduced, and their liquidity levels will improve," Harish Galipelli, head of commodities and currencies at JRG Wealth Management, told Bloomberg, adding: "Slowly people will return to gold as a form of investment as we see further easing in curbs."
The World Gold Council expects demand for gold from India to increase to nearly 1,000 tons in 2014 compared to 974.8 tons last year, according to Bloomberg, even as shipments in the first quarter of the year fell to 129 tons while demand fell 26 percent over the same period last year.
© Copyright IBTimes 2023. All rights reserved.