India's Gold Smuggling Problem: Unofficial Gold Market Shows Little Sign of Slowing, So Long As Import Duties Stay Put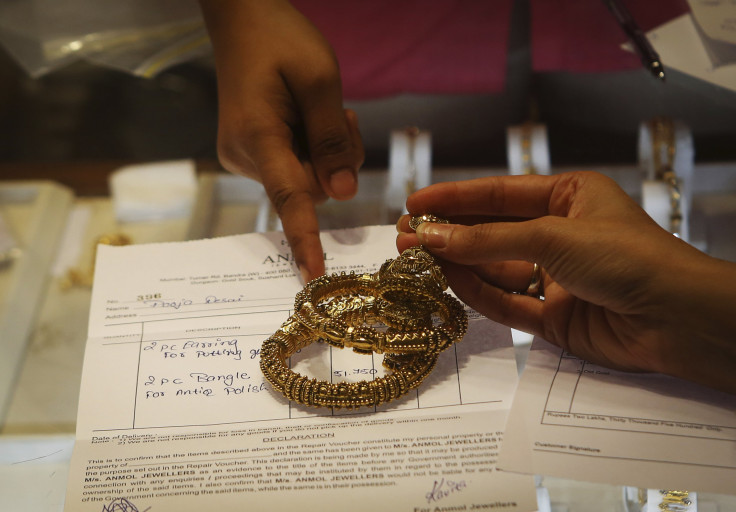 Indian government attempts to calm a robust flood of gold imports with blunt policy instruments and import duty hikes this year have actually boosted gold smuggling into the country, industry experts told International Business Times.

Indian gold smuggling has jumped significantly this year, after a series of import tax hikes, obscure export rules and outright quotas have made it difficult to trade the precious metal openly.

Official gold regulations, which include five duty hikes from 1 percent in January 2012, to the current 10 percent levy as of August 2013, stem from the government's struggle against record current account deficits, led partly by massive gold imports.

India is the world's largest consumer of gold, though China is on track to steal that title by year-end.

Smuggled gold into India is likely to reach 200 tonnes in 2013, up 50 percent from 2012, estimated World Gold Council managing director Marcus Grubb, in mid-August.

Government controls have forced up local premiums but aren't effective in curbing persistent demand, he recently told IBTimes.

"Of course the government is trying to improve the current account deficit. But basically all it is doing is increasing the price of gold to the consumer, and increasing the amount of unofficial gold coming in," he said.

"Overall, it can't affect the demand. In the end, that's cultural. It's about saving assets, for the wife and the family, and is linked to festivals and weddings," Grubb said at the time.

September traditionally kicks off a strong season for gold buying in India, as the festival calendar fills up for three months. Indian farmers have also benefited from a bountiful monsoon season this year, leaving this key major portion of Indian gold consumers with even more cash for bullion.

Government officials accordingly clarified obscure import rules in early September, initially issued in July, which said that gold importers must export 20 percent of all gold they'd imported.

The clarifications were directed at lifting a two-month hiatus on Indian gold imports, which has frustrated market traders this summer.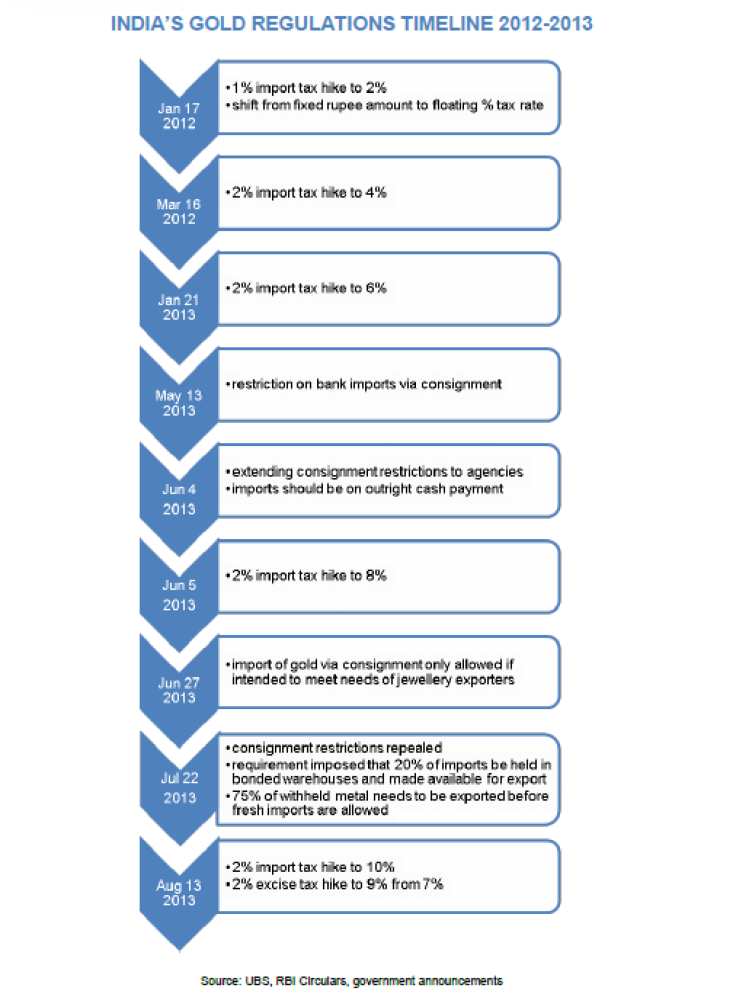 Though those measures are helpful, alone they won't be enough to stop gold smuggling, Harish Soni, chairman of the All India Gems and Jewellery Foundation, told IBTimes.

The upwardly sliding import duties, from 1 percent to 10 percent, have dampened the official gold trade and spurred the unofficial market, Soni said.

"Earlier, at the time of 1 percent duty, there was no smuggling at all," he said. "Whatever we used to import were official imports."

Although Soni said data on smuggled gold was hard to obtain, he noted increasingly aggressive customs checks at airports this year, geared to screen out gold smugglers.

Illegal gold seized at airports and other border checks have increased nine or tenfold this year, Soni said, citing anecdotes from industry sources and news reports.

"They are just very aggressive right now, at all the international airports," he said. "Randomly, they are checking all the passengers."

It's unclear where the smuggled gold comes from, though industry experts suspected that border nations like Pakistan, Bangladesh and Nepal were key transit routes.

The government has set a target of keeping official gold imports to 850 tonnes this year, at roughly similar levels to last year.

Indian officials project that 11 percent less gold could be imported this year, thanks to their measures, reported Reuters, even as local prices hit a record high on Aug. 28.

Visible differences in local prices and international prices look set to stay for the short term, according to industry experts.

"There has been an alarming rise in the gold smuggled into the country," gold and commodities strategist G Srisatsava, of Foretell Business Solutions, which organized India's 2013 International Gold Convention, said in an email to IBTimes.

"With 10 percent customs duty and 1 percent VAT, plus insurance, the premium over London is at least 11.3 percent The incentives are fairly high," he wrote.

Industry figures polled at the mid-August convention also estimated that 200 to 300 tonnes would be smuggled into India over the next 12 months, in line with World Gold Council estimates.

With regulations restricting supply and more arbitrage between sharply different Indian and international prices, "We hear of the gray market starting again in a big way," the council's India managing director PR Somasundaram told IBTimes.

"All that stuff you used to hear about in the 1980s: now it's all coming back," Somasundaram said, referring to the peak of Indian gold smuggling prior to gold regulations imposed in the 1990s.

Earlier this week, the Indian government raised the import duty on gold jewelery from 10 percent to 15 percent in a bid to protect the domestic jewelery industry, the BBC reports.
The government has also considered encouraging gold recycling by commercial banks, which could work if banks buy gold from individuals at better prices than pawn shops and jewelers.

That move could help dampen any sudden price rises in Indian gold, wrote HSBC Holdings PLC (LON:HSBA) gold analyst Jim Steel, in early September.

Even given proactive moves and good intentions by regulators as well as helpful import-export clarifications, there's ample room for uncertainty and frustration as the market moves into the final leg of the year.

"Given the increased number of steps and amount of paperwork involved, it appears that the whole process of bringing gold into India will now take a considerably longer time than before," UBS AG (VTX:UBSN) gold analyst Joni Teves wrote in early September, referring to the new system involving government sanctioned warehouses, where gold must stop before it is released into local markets.

"The coming three months will be the peak season for Indian markets," Soni said. "If the government is not releasing imports on time, then, definitely, the gray market will flourish."
© Copyright IBTimes 2023. All rights reserved.