Gold Demand: China And India In Close Competition, But Other Investors Flee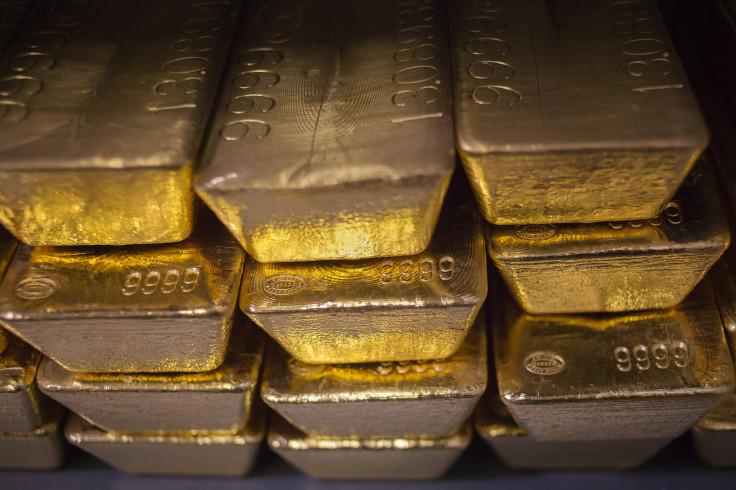 China and India battled to become the world's largest consumer of gold, just as gold outflows from European and U.S. investment funds hit record lows this past quarter, according to global gold statistics released Thursday.
The World Gold Council, an industry group backed by gold producers, said that quarterly gold demand fell 12 percent from last year, to about 850 tonnes, even as demand for gold jewelry stayed strong.
The value of gold in demand worldwide fell 23 percent, as consumers, investors and central banks sought only $39 billion worth of gold. That's the lowest value assigned to global gold demand in more than three years.
Outflows from exchange traded funds totaled about 400 tonnes this quarter, in the worst quarter for such outflows ever, as investors abandoned gold for equity markets.
The second-worst quarter for ETF outflows was at 177 tonnes, in the first quarter of 2013.
"The big fall in price in April during this quarter led to a big division in the market," council managing director Marcus Grubb told International Business Times. "We saw investment down 63 percent, driven largely by the ETFs."
But, he added: "You had huge increases in physical demand, basically soaking up tonnage coming onto the market from ETFs, led largely by India and China."
China and India are also locked in a dead-heat race over whether China will eclipse India as the world's largest gold consumer by the end of the year, Grubb said.
Although demand in India just barely beat out Chinese demand this quarter, Chinese gold demand slightly exceeded Indian demand for the first six months of the year.
China could also set a record for itself this year if it reaches 1000 tonnes of annual demand, surpassing its previous record of 776 tonnes, said Grubb.
"It's very close," he said, of the demand duel between the two Asian giants, where physical demand has traditionally been high. "It's too close to call, given that they're so close at the half year, and also given the changes underway in India."
HSBC Holdings plc (LON:HSBA) gold analyst James Steel said in a research note earlier this week that Chinese gold demand will likely exceed 1,000 tonnes this year, becoming the best year on record for the country.
India has already crossed that 1,000-tonne threshold in the past, so the deadlock between the two for the title of the world's biggest gold consumer is likely to be ongoing.
Trade data from earlier this week also showed that China hit a record quarterly high for gold demand from April to June 2013.
Recent regulatory restrictions in India seem to have had little impact on gold appetite so far, too, as demand rose by about 55 tonnes quarter-over-quarter.
"It affects the markets temporarily and forces up the local premium, now $57/oz in Mumbai, but it isn't really having that much effect on demand," said Grubb of the measures, citing a 48 percent increase in Indian demand from last year.
The measures also boost the amount of "unofficial" gold smuggled into India, which the council estimates at 200 tonnes for 2013. That's a significant increase in so-called 'grey market' gold, said Grubb.
But according to an Indian gems and jewellery trade group, wrote Steel, Indian gold imports could come to less than a meager 150 tonnes over the next six months.
Slightly less central bank buying of gold was evidenced in the quarter, along with a tightening of gold supplies led by the lowest level of recycled gold since 2007.
© Copyright IBTimes 2023. All rights reserved.