India's Prime Minister Manmohan Singh Says 6.5 Percent Growth Target Looks Unachievable; Deutsche Bank Cuts India's GDP Growth Forecast To 5 Percent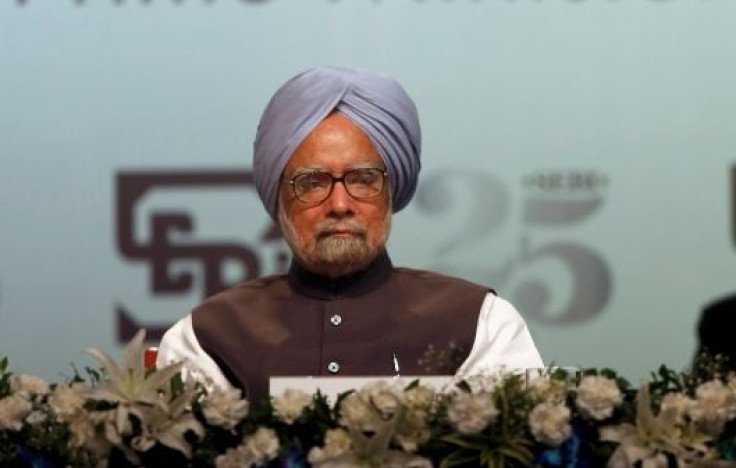 India's Prime Minister, Manmohan Singh, on Friday, said the country's growth target of 6.5 percent, set in February, would be difficult to achieve due to poor industrial growth and overall underperformance of the global economy, but expressed hope that the government could rein in the country's massive current account deficit.
Singh's comments coincided with the latest take on the Indian economy from Deutsche Bank (NYSE:DB), which, on Friday, lowered its growth projection for India in the current fiscal year ending in March 2014 to 5 percent of gross domestic product, or GDP, from its earlier forecast of 6 percent, citing low industrial production and trade, and negative business sentiment.
"We feel that a growth turnaround would take longer than we had expected earlier. The weak trend of capital goods imports suggests that the rate cut cycle has not yet managed to turn around investment sentiment," Deutsche Bank said in the research note, according to Reuters.
The bank's forecast closely follows other major downgrades of India's GDP this week.
Macquarie, on Thursday, sharply lowered its forecast for India's growth for the current fiscal year to 5.3 percent from 6.2 percent, citing capital outflows, a depreciating rupee and sluggish policy reforms. Bank of America-Merrill Lynch, on Tuesday, cut India's growth forecast for the same period to 5.5 percent from its earlier estimate of 5.8 percent.
The prime minister said the agriculture sector's performance is promising, but industrial growth is yet to recover, which is slowing the recovery process.
"We had targeted 6.5 per cent growth at the time the budget was presented. But it looks as if it will be lower than that," Singh said in an address to the Associated Chambers of Commerce and Industry of India, in New Delhi, Press Trust of India, or PTI, reported.
"I would not like to make a forecast of what our growth will be in the year 2013-14. The IMF has recently reduced its earlier projection of growth rates for all countries including India, for 2013," he said.
The Indian economy is currently worse than it was at the peak of the global financial crisis in 2008-09, and GDP growth plunged to touch a 10-year low of 5 per cent in 2012-13.
Singh expressed concern over the high current account deficit, which touched 4.7 percent in the last financial year, and added that the government would put to use all available policy instruments to reduce the deficit.
"Ideally we should bring the CAD down to 2.5 per cent of our GDP. It is clearly not possible to do this in one year, but I expect that the CAD in 2013-14 will be much lower than the 4.7 per cent level recorded last year. It will decline further next year," he said.
Singh said the government is also trying to reduce the fiscal deficit, which soared due to stimulus provided in the past, in the form of increased government spending and tax cuts to revive the economy. He said the government is committed to meet the reduced fiscal deficit target of 4.8 percent in the current fiscal.
Singh said fundamentals of the economy remain "sound and healthy" and that the government is undertaking "all possible measures to correct imbalances on the macro front."
© Copyright IBTimes 2023. All rights reserved.