Indonesians Protest Government Inaction Over Managing Forest Fires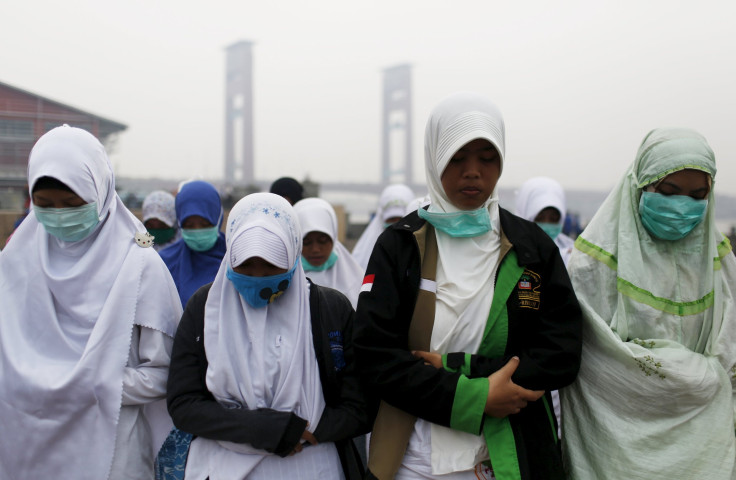 Indonesia's Central Kalimantan province saw increased demonstrations Tuesday over the stinging haze that has engulfed the region in recent days due to recurring forest fires.
About 150 protesters threatened to enter the governor's office in Central Kalimantan province to publicly denounce the Indonesian government's inaction against forest fires, which have blanketed three South East Asian nations, including Malaysia and Singapore, with haze.
The protests were led by students and volunteers of various Indonesian environmental groups such as Save our Borneo, and Walhi, Channel News Asia reported. Demonstrators, armed with placards, also covered their faces with masks to symbolize the amount of haze in the atmosphere as the Pollution Standards Index level hit 1,400 Tuesday.
One of the protesters, Ali Wardana, told Channel News Asia that people in Central Kalimantan were suffering from respiratory illnesses triggered by the intense haze, which has intensified over the past two weeks, creating a thick haze, which has also affected the neighboring province of Sumatra.
The Straits Times reported that the haze was caused by the burning of peatlands and forests in Indonesia. According to a report by Al Jazeera, the fires are artificially created by slash and burn techniques to make way for pulp and paper plantations.
The Indonesian government issued a state of emergency earlier this month, with Environment Minister Siti Nurbaya Bakar assuring people that there would be more healthcare facilities in Riau, one of the affected areas, on Sumatra. Health Ministry Secretary-General Untung Soeseno Sutarjo confirmed that the health ministry would send 14 specialist doctors and para medics from Jakarta to tackle the situation, the Jakarta Post reported.
At the same time, the Indonesian government has voiced skepticism about the link between the haze and the forest fires, which are an annual phenomenon. The government has also reportedly pointed fingers at private companies and plantation owners, while private enterprises have blamed locals.
"Companies keep burning the forests every year and it's time for the government not to search for those who did it, but to take care of the health of the people," Uma Mastika, a member of the Pangkalan Raya city parliament, told Channel News Asia.
Singapore and Malaysia too face the effects of the spreading haze. While the Star Online reported that Malaysia's environment minister Wan Junaidi Tuanku Jaafar will leave for Jakarta Friday to discuss measures to combat the issue, the Straits Times reported that Jakarta has agreed to share the names of the erring companies with Singapore.
© Copyright IBTimes 2023. All rights reserved.
FOLLOW MORE IBT NEWS ON THE BELOW CHANNELS