Inflation Hawks' Arguments Not Apparent In Latest CPI Data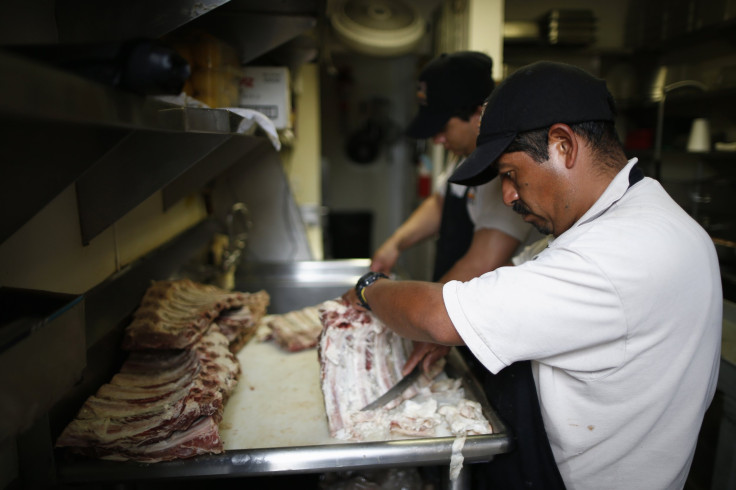 A closely watched measure of U.S. inflation barely moved in July as energy offset rising food costs and rents. Wage gains during the same period rose an identical amount, signaling that Americans' purchasing power is not rising, according to the Labor Department.
That's important because the Federal Reserve, the nation's central bank and arbiter of key interest rates, is unlikely to raise those rates until wages increase more dramatically.
The government said on Tuesday that its Consumer Price Index increased by 0.1 percent in July after increasing 0.3 percent in June and 2 percent from a year ago after increasing an annualized 2.1 percent in June. It's the weakest monthly growth since February.
"Inflation is not accelerating," said Stuart Hoffman, chief economist at PNC Financial Services Group. "Core prices have been increasing at a steady 0.1 to 0.2 percent monthly pace for years."
The weak growth in income signals slack in the labor market, or too many job-seekers eager for work to pressure employers to raise wages. That adds support to the view that the Fed will not rush to raise interest rates. Low interest rates help households and businesses borrow money to finance new spending and support prices of assets like homes and stocks.
"The recent slowdown in the pace at which core consumer prices are rising eases some of the pressure on the Fed to start considering rate hikes, although only temporarily," Paul Dales, senior U.S. economist for Capital Economics, said in a research note Tuesday.
Last month, the U.S. central bank said the risk of inflation running below 2 percent persistently had "diminished somewhat." It has kept its overnight lending rate to banks, which affects the interest rates banks charge customers, near zero since December 2008 to ease the economy back to health, but the bank is expected to raise the rate when inflation accelerates past 2 percent.
Dales expects the Fed to raise interest rates as soon as March, while Hoffman predicts it will be October 2015.
July's slight rise in consumer prices aligned with economists' expectations.
Energy prices, including natural gas, electricity and gasoline, fell in July after rising for three months straight. Gasoline prices fell 0.3 percent last month after a 3.3 rise in June. Food prices rose 0.4 percent in July after rising 0.1 percent in June as a drought continues straining farms in the southwest. Core consumer prices, which exclude food and energy, rose 0.1 percent for the second consecutive month.
"The rise of food prices makes it more difficult for many Americans households – especially those households that live paycheck to paycheck," said Chris Christopher, director of consumer economics at IHS Global Insight. Median household income adjusted for inflation is 8.4 percent below 2007 levels, and about 15 percent of Americans live below the poverty line, he said.
"With agricultural commodity prices now falling, food price inflation has probably peaked," Dales said.
© Copyright IBTimes 2022. All rights reserved.
FOLLOW MORE IBT NEWS ON THE BELOW CHANNELS