Infographic: Jobless Breathe Sigh Of Relief As Biden Signs Stimulus Bill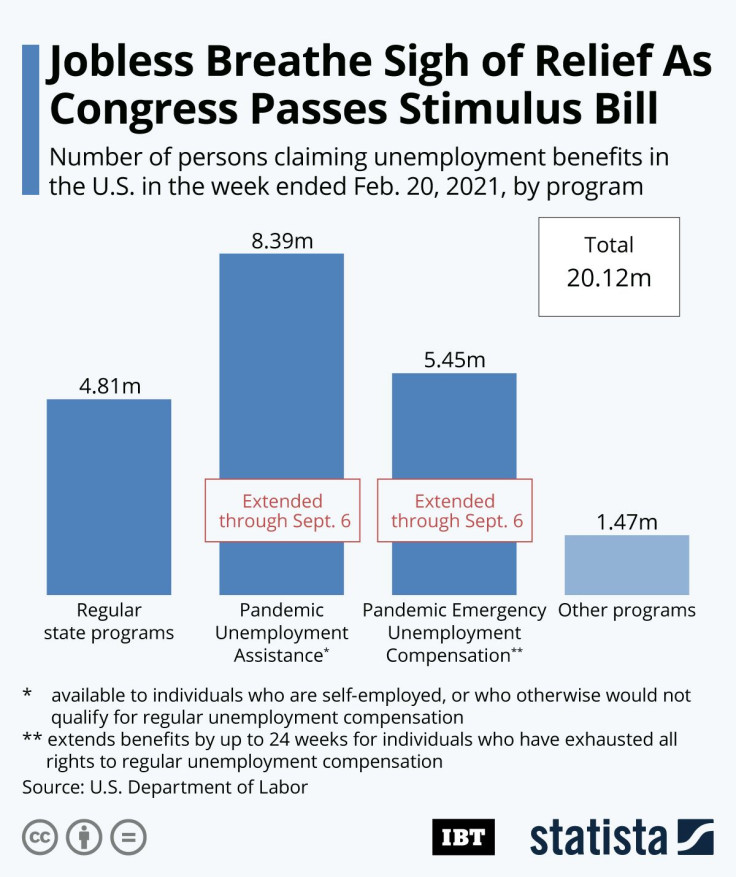 Following Congress' final approval of the $1.9 trillion relief bill on Wednesday, President Biden didn't waste any time, signing the sweeping stimulus package into law on Thursday, one day earlier than originally planned. The American Rescue Plan will not only provide Americans with another round of stimulus checks and help fund the nation's COVID-19 response but also extend two federal unemployment programs that have proven crucial to cushion the blow of the pandemic-induced jobs crisis.
Both the Pandemic Unemployment Assistance program, which is available to individuals who are self-employed or who otherwise would not qualify for regular unemployment compensation, and the Pandemic Emergency Unemployment Compensation program, which extends benefits by up to 24 weeks for those who have exhausted regular unemployment aid, have been extended until Sept. 6. Both programs were set to expire at the end of this week, leaving millions of Americans in doubt of their safety net as the jobs crisis drags on.
According to data published by the U.S. Department of Labor this week, more than 20 million Americans still received unemployment benefits in the week ended Feb. 20. And while the number of people receiving unemployment benefits through regular state programs has fallen to 4.81 million, from a peak of more than 22 million in May 2020, 13.84 million Americans still rely on aid provided through either of the two aforementioned programs, as many who lost their job during the first wave of the pandemic have exhausted their regular unemployment insurance benefits.