Infographic: US Inflation Hits Cars, Meats, Lodging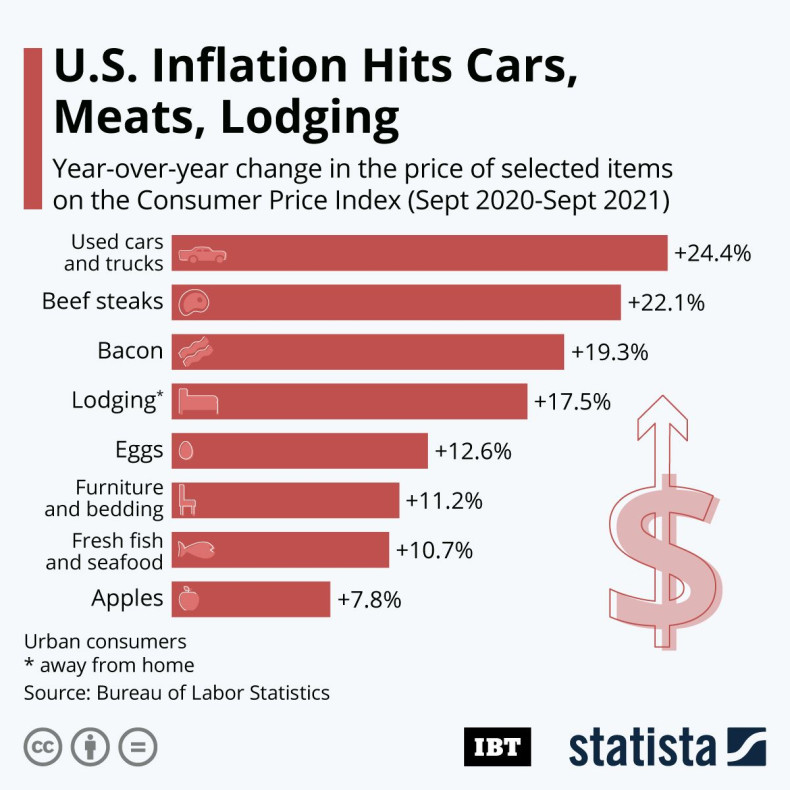 Americans who want to buy a used truck or fry up some bacon and eggs for breakfast have to shell out significantly more for those items than a year ago. Increases in the consumer price index have made all sorts of goods more expensive as the long-term effects of the COVID-19 pandemic are still bearing down on global supply chains. Recent U.S. inflation levels have been well above those in other industrialized nations, for example in Europe.
While the price of used cars and trucks rose by almost a quarter between September 2020 and September 2021, the price increase for beef steaks and bacon was around 20 percent. Lodging away from home was hit with a 17.5 percent price increase.
Meat was one of the food items most affected by inflation, becoming on the whole more than 10 percent more expensive over the course of a year. Eggs' price increase even exceeded 12 percent, while fruits and veg rose by 3 percent, fats by 7 percent and eating out by almost 5 percent.
Food and energy are considered the most volatile items in the CPI – mineral oil products especially experienced huge price swings in the course of the coronavirus pandemic. Yet, even when subtracting the two items, an annual increase of 4 percent still remains out of the overall CPI increase of 5.4 percent.