International Workers Day 2015: Why Doesn't The US Celebrate May Day?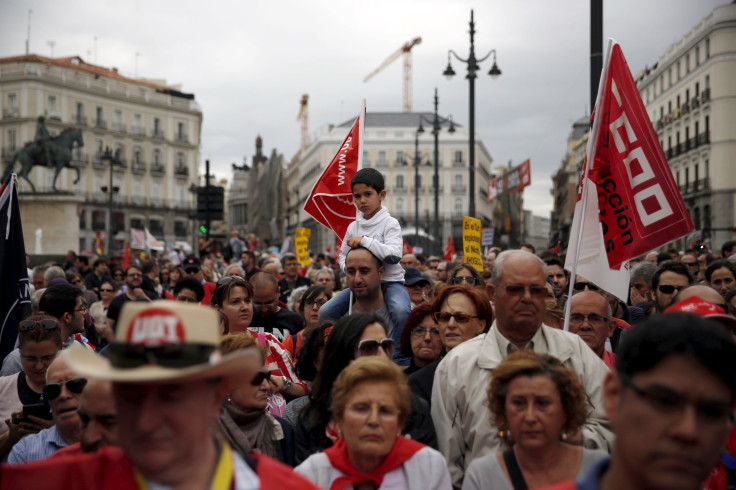 As most of the world -- from Dublin to Dhaka -- celebrates International Workers Day on Friday, with demonstrations, commemorations and vacations for the working class, Americans are toiling away on the job. Why hasn't May Day caught on here? In two words, anarchists and communists.
The United States' absence -- almost alone among nations -- from the international festivities is all the more ironic, since the day has American origins. On May 1, 1886, workers in Chicago, many of them immigrants, walked out of their jobs en masse, striking for an eight-hour work day. A few days later, at a labor rally in Haymarket Square, a bomb exploded, killing 11 people, including seven police officers. Four anarchists were hanged, on flimsy evidence, and the general strike dissipated.
A few years later, in Europe, a newly formed collection of socialist and labor parties called for a demonstration on May 1 to honor the "Haymarket Martyrs" and sustain the struggle for an eight-hour work day. Over the years, the cause evolved into a broader celebration of labor unions and workers' rights and spread around the world. Governments -- and not just Communist ones -- embraced the day as a public holiday: Workers in Kenya, Brazil, India, France, Germany and elsewhere all have the day off.
But things took a different path stateside. Worried about the political threat of anarchists and socialists, President Grover Cleveland latched on to another day celebrated by some, more moderate trade unionists and proclaimed the first Monday in September as Labor Day in 1894. Although radicals occasionally tried to revive May Day, most U.S. unions, like those in the American Federation of Labor, did not.
"They're not seeing themselves as part of a broader internationalist movement," says Jacob Remes, a labor history professor at State University of New York Empire State College. "They were skilled white men, they're more conservative, their unionism is reformist."
Not only is Workers Day not celebrated in the United States. Public authorities have managed to recast the symbolically charged day into the national struggle against left-wing radicalism and communism. In 1955, at the height of the Cold War, Congress passed a bill calling on President Dwight Eisenhower to proclaim May 1 as "Loyalty Day." (Three years later, he proclaimed "Law Day.") The proclamations, which the White House continues to this day, originated as swipes at the Soviet Union and its showy May Day military marches. But they also gestured toward the internal threat of domestic communists and their fellow travelers -- both of which were targeted by Sen. Joseph McCarthy, the House Un-American Activities Committee and their sympathizers.
Loyalty Day and Law Day built on earlier commemorations of "Americanization Day," first organized by the Veterans of Foreign Wars on May 1, 1921. That took place in the immediate aftermath of the first Red Scare after World War I, an era marked by mounting nativist sentiment, a nationwide resurgence of the Ku Klux Klan and anxieties over the Russian Revolution. Immigrants made up a large part of the new Communist Party, which put an emphasis on organizing African-Americans and dismantling Jim Crow.
"You can't separate the anti-radicalism from nativism and white supremacy. They're always intertwined in the United States," says Jacob Remes.
Echoes of May Day occasionally resound today. In 2006, when hundreds of thousands of immigrants decided to protest for immigration reform, they chose to strike on May 1. Three years ago, on the same day, the Occupy movement held a series of demonstrations. And this year, dockworkers in Oakland plan a brief work stoppage in solidarity with ongoing protests against police brutality. American presidents, too, continue to sign annual proclamations for Loyalty Day and Law Day. On Thursday night, President Obama opted for the latter.
© Copyright IBTimes 2023. All rights reserved.
FOLLOW MORE IBT NEWS ON THE BELOW CHANNELS