iOS 6 Maps: 5 Features Of The Google Maps Killer For Apple iPhone, iPad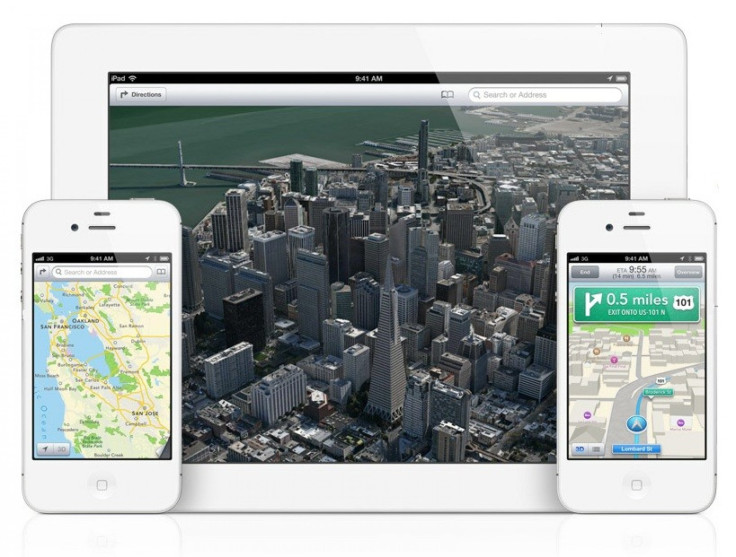 Google Maps has been a signature feature of the iPhone since its first launch in 2007, but all that will now change. At the 2012 Worldwide Developers Conference in San Francisco, Apple introduced a new Maps application as a part of the iOS 6 platform coming in the fall. But this Maps app isn't built by Google; this one is Apple-made.
Apple and Google had a very positive relationship until Android came along. When Steve Jobs introduced the iPhone in June 2007, inviting Google CEO Eric Schmidt on stage to explain the Google Maps feature, it looked like the two companies would be partners for a long time to come. But when Google launched its own smartphone operating system with Android -- which copied and directly competed with Apple's revolutionary product and user interface -- Jobs was enraged, and Apple started to cut its ties with the search giant.
We never went into search, Jobs once said of Google's move, at the D8 Conference in 2010.
Instead of building a search engine, an area where Jobs believed others do it better, Apple decided to get into the mapping business. As a result, the new Maps application was made from the combined technologies of three mapping companies that were acquired by Apple: Placebace, Poly9 and C3 Technologies, which were purchased in 2009, 2010 and 2011, respectively. While Placebace and Poly9 are both mapping companies with products similar to Google Maps, the real crowd-pleaser is C3 Technologies, which boasts some of the most impressive 3D maps.
Google wasn't happy to hear that Apple was abandoning its Maps application, so in a competitive move, Google decided to hold its own event on June 6 -- just five days before WWDC -- just to introduce its Next Dimension of Google Maps. But Google's announcement has not undercut Apple's at all; in fact, Google said Maps would still be available on iOS, which gives those users a choice of their favorite Maps app. If you own an Apple device, you win no matter what.
But users already know what they're getting with Google Maps. Here's what Apple's Maps application has to offer when it's released in the fall along iOS 6 for iPhone and iPad:
1. Detailed 2D Maps: Apple's Maps application was built brand-new from the bottom up: With vector-based maps elements, graphics, text and panning is extremely smooth, even when you zoom all the way into the map to see the streets and geography. Even if you tilt or rotate the device, the names of the streets and locations will stay where they belong.
2. Incredible 3D Maps: Similar to Google Maps and Google Earth, Apple created a feature in Maps that lets you view the geography from a new perspective. Most of this technology was created by C3 Technologies, which was a leading provider of 3D mapping solutions with photo-realistic models of the world for searching, navigation, and geographic information systems. In Apple's Maps app, you can tilt, pan, zoom, and rotate around entire cities.
The Sweden-based company's automated software and advanced algorithms enable C3 to rapidly assemble extremely precise 3D models, and seamlessly integrate them with traditional 2D maps, satellite images, street level photography and user generated images, that together are forever changing how people use maps and explore the world, C3 wrote on its website.
So how do these incredible 3D views get created? Essentially, a plane covers a 100 square kilometer area in a plane, taking photos of the entire area, and that data is then sent to a fully automated graphics generator, which creates 3D models of the land, terrain and objects from the photos. It's all automatic, and it creates a veritable third dimension for the user to explore the map.
The best part about C3's (and now Apple's) technology is that its detailed 3D maps require virtually no input from humans, thanks to extremely intelligent targeting methods that can pick up buildings, homes, and even trees with no problem.
3. Traffic Conditions: Later in its life, Google Maps introduced a feature where you could see the traffic patterns on particularly busy roads; green paths meant the road was clear, while red and yellow roads meant there was congestion. Apple has gone a similar route in its own Maps app, but you now have more detail about the event taking place.
If the roads are clear, you have nothing to worry about; however, when there's bad traffic, Maps will tell the user what kind of issue it is, whether it's a short-term or long-term problem. Users will know if the traffic was caused by construction, which is a longer-term issue, or just an accident, which could clear up in a matter of time. Your iPhone or iPad will also send details about the incidents that occur so you stay up to date with the traffic without having to switch to the radio.
Luckily, when any of these incidents occur, your iPhone or iPad is way ahead of you. The perfect navigator, Siri (via Maps) offers plenty of other alternative routes to shave minutes, or possibly hours, off your trip.
4. Business Searching: Similar to Google Maps, typing in the search field in Apple's Maps app will drop pins on a number of businesses or locations that match your search. To get more information about the location, simply tap the pin to see photos, find the address or website, see ratings and reviews from Yelp, and also get phone numbers. With a simple Quick Route button, you can direct yourself to anywhere, anytime, and Apple will tell you the best route to get there based on the traffic conditions.
5. Turn-By-Turn Navigation: It was once a technology reserved for GPS devices, but now we have turn-by-turn directions right on our iPhones. Whether you looking at Maps in 2D or 3D, Maps will deliver vocal directions via Siri so you can keep your attention on the road ahead. Similar to GPS devices, the phone will also create a new 3D perspective of the road ahead with large signs and arrows for more specific instructions. When you approach a turn, the camera angle dynamically changes so you never get confused. Even if your screen is locked, you'll know which way to go and how long it'll take to get there.
* * *
Are you excited for this new Maps app in iOS 6? Will you still choose Google's application over Apple's new one? Let us know in the comments section below.
© Copyright IBTimes 2023. All rights reserved.