IPad Pro vs. Surface Pro 3: Is Apple Inc.'s New 12.9-Inch Tablet A Better Laptop Replacement?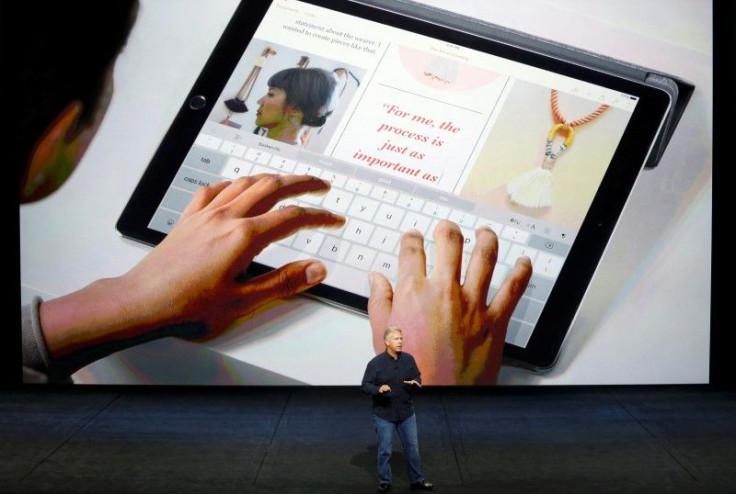 Apple on Wednesday unveiled the iPad Pro, a new take on its tablet that supports a stylus and physical keyboard and bears more than a passing resemblance to Microsoft's Surface Pro 3. Microsoft markets the Surface Pro as the tablet that can replace your laptop, but does Apple's offering live up to the same goals?
The iPad Pro competes strongly on price. It comes in three models: 32GB for $799, 128GB for $949, or 128GB with added LTE cellular connectivity for $1,079. Meanwhile, the Surface Pro comes in five models, with varying specs and processor models. The Surface Pro starts at $799 for 64GB storage, with a 1.5Ghz Core i3 and 4GB RAM; at the high end, it's available for $1,799 with 512GB storage, a 1.7Ghz Core i7 and 8GB RAM.
On the processor side, the iPad Pro is hard to compare. The A9X processor utilizes ARM architecture, and the iOS operating system is specifically designed for Apple's chips.
<iframe width="720" height="400" src="https://www.youtube.com/embed/9_7v_mzky6A" frameborder="0" allowfullscreen></iframe>
Accessories Not Included
What about the keyboard? The iPad Pro keyboard is covered in an "Apple woven fabric." Three circles at the edge of the iPad Pro, the Smart Connector, provide power and data, and connect magnetically. It knows that you want to use the physical keyboard rather than the internal one. It costs $169. The Surface Pro Type Cover, on the other hand, comes in at $129.99. It also features more traditional keyboard buttons, alongside a trackpad for switching between mouse and touchscreen interaction. If you want that variety frequently while you're working, the Surface Pro wins hands down.
Apple has also come up with its own stylus, called the Apple Pencil -- ending the company's long-held stylus distaste, which Steve Jobs famously expressed with one word: "Yuck!" The stylus is active, meaning it has to be charged through its Lightning port. It's also pressure sensitive, can be used alongside a finger, and works with a range of third-party apps.
Apple's offering comes in at $99. The Surface Pen, meanwhile, costs $49.99. It has 250 levels of pressure sensitivity, palm-block technology, a button to open OneNote, and connects via Bluetooth running off a AAAA battery. In a head-to-head comparison, Apple may show itself to have the lead over Microsoft's offering, but for now, it seems that Redmond has bested Cupertino on the affordability front.
The Laptop Killer?
The other main hurdle to making a comparison is that Apple's device doesn't run a desktop OS. As developers jump on board and make more Pro-optimized apps, it may replace the laptop for more and more people. But there's no denying it: Microsoft's offering can replace your laptop today, with a desktop OS that supports a traditional file system. The question will depend on the individual user: Is the iPad Pro the answer to your needs? As it stands however, with mouse support and a desktop OS, it seems that Microsoft may still have the upper hand in replacing the laptop.
© Copyright IBTimes 2023. All rights reserved.
FOLLOW MORE IBT NEWS ON THE BELOW CHANNELS