iPhone X Restore Backup Problems: How To Fix Beta Issues, Other Errors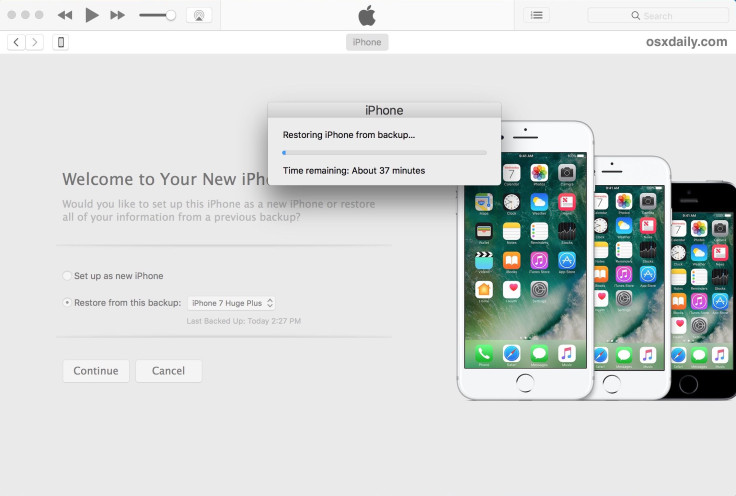 Trying to restore data on your iPhone X but keep getting an "iPhone X cannot restore backup" message? Find out how to fix the issue and other problems with restoring backups to iPhone X, here.
With the iPhone X making its way into users hands this month, it's not surprising there have been a few hang-ups related to transferring data and restoring backups on the new device. If you've been having trouble getting a backup to restore, there are several things that could be causing the issue -- the most common happening for users who are part of Apple's iOS 11 beta testing process. Below we've put together a simple guide for backing up and restoring data from your older device on the new iPhone X as well as a list of troubleshooting steps you can take to fix known issues users have had when restoring the iPhone X -- including issues with iOS 11 betas. Check them out below and let us know in the comments if you've found another way of fixing iPhone X backup problems.
How To Restore A Backup On iPhone X
In order to restore a backup to iPhone X, first, you need to make sure one is available. This can be done one of two ways: by completing a backup via iCloud or via iTunes. Here's how to do each.
How To Manually Backup Phone To iCloud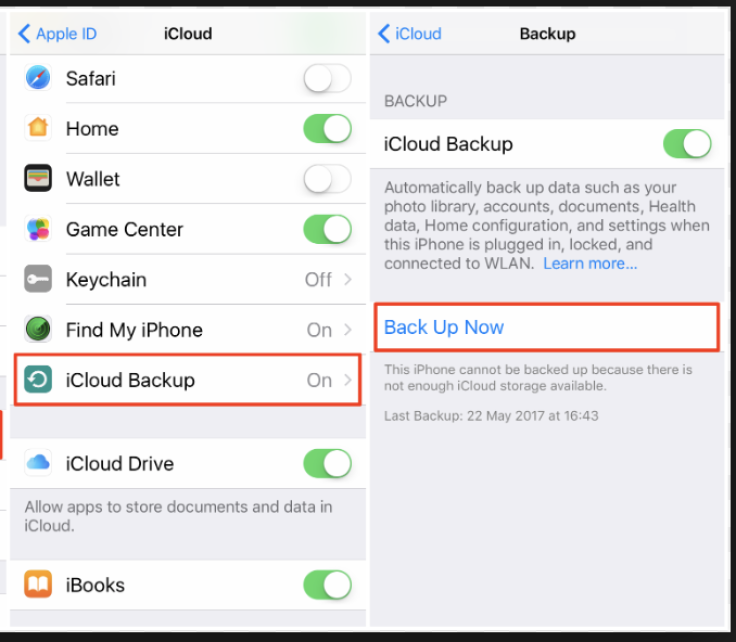 Most people will have automatic iCloud backups enabled, which means the phone updates on a daily basis as long as you are connected to Wi-Fi. However, to be safe you can manually backup the device to iCloud as well. Here's how:
Go to Settings and look for the place where your name/contact icon are. Tap on this.

You will be taken to a new menu with iCloud and iTunes info. Towards the bottom of the menu are a list of all your iCloud backups from different devices. Tap on the one you want to restore to your iPhone X.

Tap on "iCloud Backup"

Tap on the "Back Up Now" option.

Your phone will now complete a fresh iCloud Backup.
How To Manually Backup Phone Via iTunes

You can backup your old device on iCould or your computer when you use iTunes.

Apple
Open iTunes on the Mac or PC.

Connect your device to your computer with a USB cable. If a message asks for your device passcode or to "Trust This Computer", follow the onscreen steps.

Select your iPhone when it appears on iTunes.

Go to the Backup section and under "Automatically backup" decide if you want your backup saved on iCloud or the computer. If it's saved on the computer, you will have to restore via the computer.

Click the "Back Up Now" button to backup your old device.
How To Restore Backup On iPhone X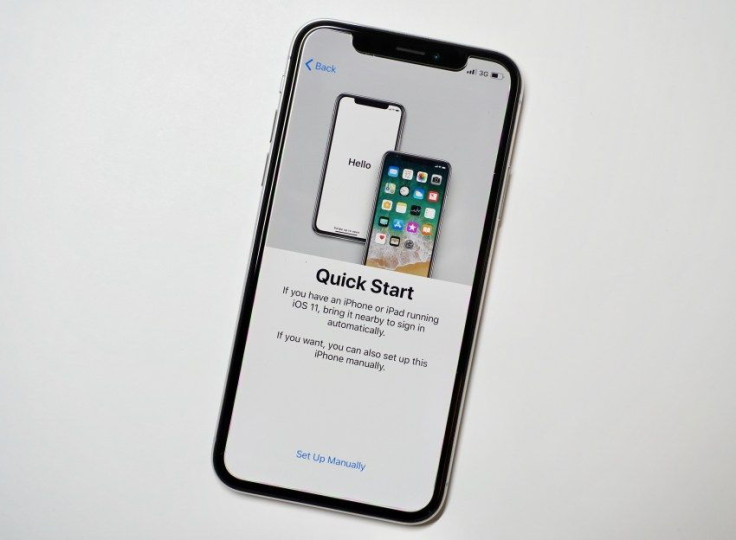 iCloud
Now that your backup is saved restoring it to your iPhone X is relatively simple. If you saved the backup to iCloud, when you are first setting up your new iPhone X, there will be an option to set it up as a new phone or restore a backup. Restoring an iCloud Backup requires just entering your iCloud username and password and then selecting the backup from your old device. If you are unable to do this or the backup you are looking for is missing, please be sure to check out the troubleshooting tips and the bottom of the article
iTunes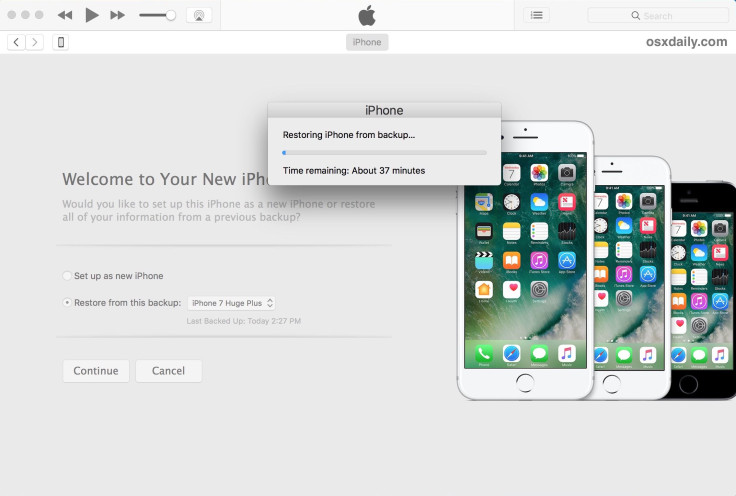 Another way of restoring a backup to your new iPhone X is via iTunes. To do you need to:
Open iTunes on the Mac or PC.

Connect your device to your computer with a USB cable. If a message asks for your device passcode or to "Trust This Computer", follow the onscreen steps.

Select your iPhone when it appears on iTunes.

In the backups section, tap on the "Restore Backup" button and select the most recent one. If for some reason you don't see any backups or the one available is pretty old, either follow the backup steps above or check out our troubleshooting guide below.
iPhone X Restore Problems: How To Fix Issues With Installing A Backup
Problem # 1: "iPhone X Cannot Backup" / "Backup Is Corrupt Or Not Compatible" Error - A number of users reported this problem when trying to restore a backup to their iPhone X. Most of the users experiencing this problem have enrolled in Apple's iOS 11 beta program. With the beta program, users get to test the latest iOS software that hasn't released to the general public. This means the software being run doesn't actually "exist yet" and so the iPhone X can't use that backup.
The Fix: Enroll iPhone X In Beta Program - The best way to fix this problem is to go ahead and set up your iPhone X as a new iPhone and enroll it in Apple's beta program. If you don't remember how just visit Apple's Public Beta page to get set up. Once your new iPhone X has been enrolled in the Apple Beta program and installed the latest beta software, you will be able to install the backup. If you don't want your new iPhone X on the beta software, the only other option is to wait for the beta software to be released as an actual update.
As a side note, if you were NOT a part of the Apple beta program and are still getting the "Corrupt Update" error, try backing up the old device again and see if it fixes the problem.
Problem #2: "An Error Occurred While Restoring Backup" - This most frequently occurs when trying to install an update via iCloud but could happen on iTunes too. To fix the problem simply try the restore again. If the issue persists, try to restore the backup via iTunes (instructions above). If neither of these options work, you may need to backup your old device again and retry the steps.
Problem #3: iPhone X Freezes Or Backup Quits Unexpectedly - Sometimes you can have a problem with Wi-Fi, your battery gets low or some other issue occurs to stop the setup process or make your iPhone X freeze up during a backup, if this happens, it's usually best to try a hard reset and then try the restore process again
The Fix: How To Hard Reset iPhone X - The hard reset on the iPhone X is different from the way it has been on older devices because there is no longer a physical home button. You can still perform a hard reset though by doing the following:
Quickly press and release the Volume Up Button and then the Volume Down button
Press and Hold the side button until the device restarts and you see the Apple logo
​
© Copyright IBTimes 2023. All rights reserved.
FOLLOW MORE IBT NEWS ON THE BELOW CHANNELS