Iran Nuclear Deal Offers An 'Opportunity To Move In A New Direction': Obama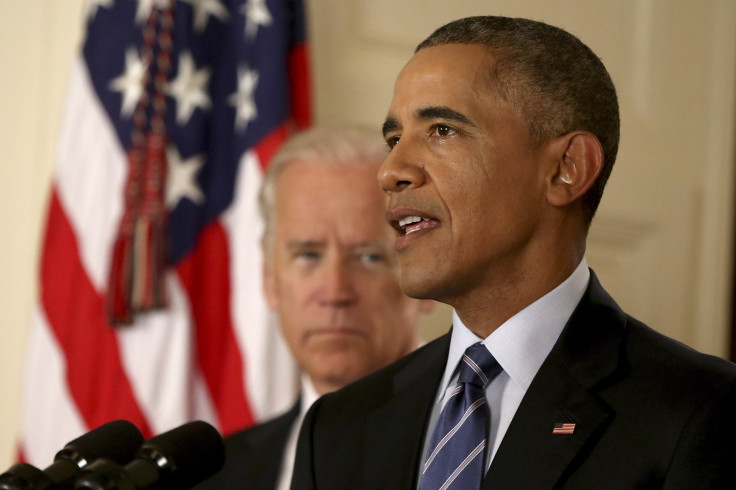 Iran and six major world powers clinched a landmark deal on Tuesday. The agreement, which is yet to be officially released, provides Iran relief from crippling economic sanctions in exchange for curbs on its nuclear program.
"This deal meets every single one of the bottom lines when we started negotiating. Every pathway to a nuclear weapon is cut off. Iran will remove two-thirds of its centrifuges and get rid of 98 percent of its nuclear material," U.S. President Barack Obama said, early on Tuesday during an address from the White House, adding that the deal is "not built on trust, it's built on verification."
The accord seeks to end nearly 12 years of conflict between Iran and Western nations, led by the U.S. According to the text of the new Joint Comprehensive Plan of Action -- accessed by several media outlets -- the deal will "produce the comprehensive lifting of all UN Security Council sanctions as well as multilateral and national sanctions related to Iran's nuclear program."
Additionally, Iran is now committed to a nuclear program for "exclusively peaceful purposes, consistent with international non-proliferation norms."
In return, Iran will have access to over $100 billion in frozen assets after the agreement is implemented -- which depends on when Tehran curbs its nuclear program -- and the IAEA certifies Iran's actions, Reuters reported. However, if Iran violates the agreements, the sanctions would fall back into place.
"IAEA [International Atomic Energy Agency] will have access where necessary, when necessary," Obama said.
"Our differences are real, and the difficult history between our nations cannot be ignored. But things can change," Obama said, during the press briefing. "This deal offers an opportunity to move in a new direction, we should seize it."
The accord will keep Iran from producing enough material for a nuclear weapon for at least 10 years and impose new provisions for inspections of Iranian facilities, including military sites. Additionally, Iran would be prohibited from building heavy-water reactors for the next 15 years.
"Consider what happens in a world without this deal. … No deal means no lasting constraints on Iran's nuclear program. No deal means a greater chance of war in the Middle East," Obama said, adding that it would be "irresponsible" to walk away from such an accord.
"I will veto any legislation that prevents the successful implementation of this deal," Obama said. "This is not the time for politics or posturing."
Iran's state television also broadcast Obama's statement live, making it only the second such occasion since the Islamic revolution of 1979, Agence France-Presse (AFP) reported.
© Copyright IBTimes 2023. All rights reserved.