Iranian Airstrikes In Iraq Suggest Warming Relations With US, Maybe Even Coordination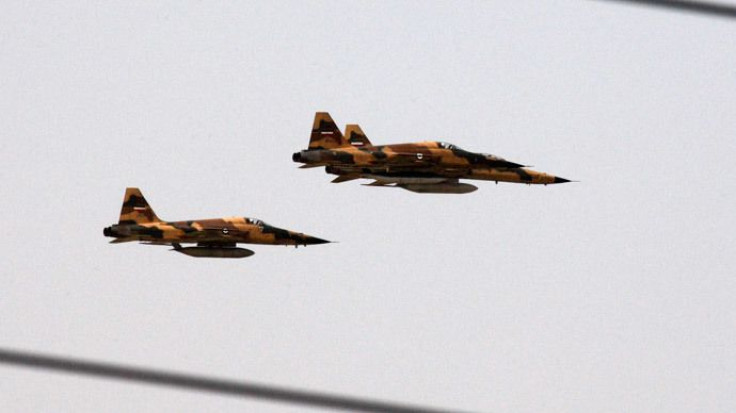 Iranian jets conducted airstrikes against Sunni extremists in Iraq last week along the two countries' border, according to various media reports. The U.S. has not officially confirmed the airstrikes, although U.S. officials have said they did take place, and Iran has denied them. But if the airstrikes took place, the U.S. likely knew about them, experts said, and tolerated them. This would mark a momentous shift in relations between Washington and Tehran, analysts said, even if the U.S. had not coordinated the airstrikes with Iran -- which the Pentagon's press secretary said it did not do.
The lack of a strong reaction from Washington, and even the remarkably relaxed tone of several top officials when discussing the possibility of Iran hitting inside Iraq, indicates a deep change of attitude.
"The Pentagon had a very mellow reaction to Iranian presence in Iraq. This is not what we are used to," Alex Vatanka, an expert on Iran at the Middle East Institute in Washington, said. "That matter-of-fact kind of reaction ... is an indication of a new atmosphere that is now in place between the U.S. and Iran."
News of the Iranian bombings began circulating when Al Jazeera aired footage of what was thought to be an Iranian F-4 fighter jet flying over Iraq. IHS Jane's Defence Weekly, a British defense analysis organization, and Israeli news outlet Haaretz both reported that an Iranian jet had flown through Iraqi airspace.
Richard Aboulafia, a military aviation expert and vice president at the Teal Group, an aviation consultancy firm, suggested that the use of F-4s indicates the Iranians knew what they were doing and were aiming for a precise target.
Iran's F-4 jets -- made in the U.S. and acquired by the Shah of Iran in the 1970s -- lack the sophisticated targeting and communication gear of today's U.S. and coalition warplanes. So the pilots flying them "would need to know where [they] were going, get the job done and get back. They wouldn't lag in the air and wait for a target" -- suggesting that the Iranians, if they indeed conducted the airstrikes, received intelligence about where to strike.
That raises the possibility that it may have been American intelligence pointing them to a specific objective.
The U.S. flies its aircraft over Iraq regularly to conduct surveillance and to bomb the Islamic State group, also known as ISIS or ISIL. The U.S. also operates AWACS command and control planes that track the movement of aircraft over Iraq, the New York Times reported Wednesday. Those AWACS jets, essentially large flying radars, are also able to see easily into Iran, meaning American forces in the area know exactly what airplanes are taking off from Iranian airbases near Iraq and can track them as they enter the country.
The U.S. denies any coordination or connection with Iran in Iraq. "We're not coordinating any military activity with Iran," Marie Harf, State Department deputy spokeswoman, said Tuesday.
Historically, U.S. senior officials have not even acknowledged Iran's influence in Iraq. In fact, State Department spokeswoman Jen Psaki said during a press briefing in November that Iran contributed to "instability in the region," adding that the U.S. government was aware of Iranian operatives inside Iraq for "training and advising" purposes but that it was "not something we are encouraging."
But when initial claims of the bombings emerged, the Pentagon's top spokesman, Rear Adm. John Kirby, offered a softer stance. He indirectly confirmed reports about the strikes on Tuesday. "I have no reason to believe that they're not true," he told reporters at a briefing in Washington Tuesday. And on Wednesday, Secretary of State John Kerry, who spoke in Brussels, said airstrikes by Iran in Iraq would be "positive."
"If Iran is taking on [Islamic State] in some particular place ... and it has an impact, then it's going to be a net effect [that] is positive," Kerry said in Brussels. He declined to confirm the reports directly.
The U.S. has known of Iranian influence in Iraq for years. Under President George W. Bush, the U.S. government "revived charges that the Iranian leadership was involved in the killing of American soldiers in Iraq," Seymour Hersh wrote in a 2008 article in the New Yorker. Retired Adm. William Fallon told Hersh that during his time at the U.S. Central Command, which is responsible for operations in the Middle East, "Iranians were funding every entity inside Iraq. It was in their interest to get us out, and so they decided to kill as many Americans as they could."
For months, Iranian-backed Shiite militias have acted as some of the strongest "boots on the ground" in Iraq fighting the Islamic State group, according to sources closely connected to the matter. Vatanka said the Iranian-backed militias are indirectly supported by the U.S., in a relationship that could alter the course of the current negotiations on a deal to suspend economic sanctions if Iran agrees to halt its nuclear program.
It is still not clear why Iran would fly jets into Iraq to bomb targets that the U.S. and its coalition allies could attack on their own, with far more sophisticated weapons. Iran's air force, while relatively large, is ill-equipped and does not have the precision bombs and missiles Western warplanes employ.
According to Vatanka, there are only three reasons Iran would have performed the attacks: The Iranians wanted to test their pilots' capabilities; they wanted to show their strength militarily; or they actually needed to hit specific targets for security reasons, which "if true tells us that this was a big coordinated effort against ISIS," Vatanka said. It could suggest, he said, that "the Iranians and Americans are indirectly working together to fight ISIS."
© Copyright IBTimes 2022. All rights reserved.
FOLLOW MORE IBT NEWS ON THE BELOW CHANNELS