Iran's New President Hassan Rouhani Mean Changes In The Country's Relationship With Latin America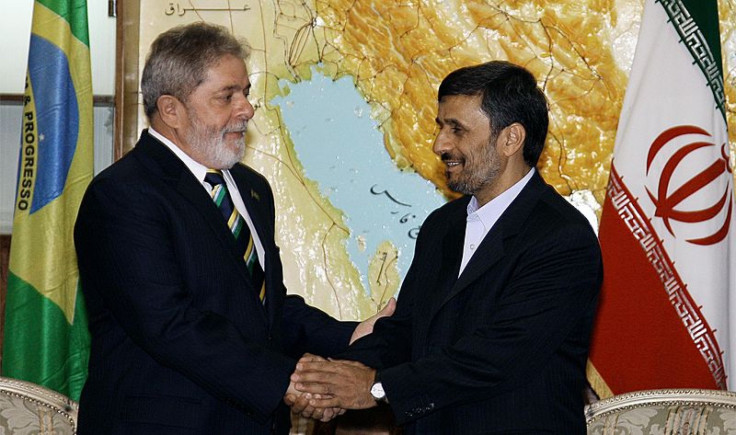 During his eight years leading Iran, President Mahmoud Ahmadinejad made a point of approaching the leftist governments in Latin America, including Brazil, Ecuador, Bolivia and, most notably, Venezuela. The Iranian president enjoyed good relationships with his counterparts Luiz "Lula" da Silva in Brazil and Hugo Chávez in Venezuela. With the latter, he was close enough to be invited to attend his funeral, where he was seen consoling Chávez's mother, Elena Frías.
In the last decade, Iran doubled its embassies in the region and funded in 2008 the creation of the International Development Bank, based in Caracas. These approaches alarmed the United States, which feared a spread of Iranian-sponsored terrorism in the region.
But as President Hassan Rouhani took office on Monday, analysts have begun questioning what will become of the growing links between the Islamic Republic and Latin America. "We are looking at keeping good relationships with every nation, including the Latin American countries," said Rouhani in his first press conference, when asked what importance he was planning on giving to the region.
Some have mentioned that Rouhani might open a dialogue with the West, meaning that Iran's relationship with Latin America might lose some of its political component.
"Rouhani is more sophisticated [than Ahmadinejad]. He studied in Scotland, has a Ph.D., he is more worldly," Luiz Felipe Lampreia, a former foreign minister of Brazil, told the BBC. "Of course, that does not mean he can do as he pleases. It still remains to be seen if he'll be able to improve or normalize relations with the West and Latin America."
Mauricio Santoro, an adviser for Amnesty International, thought that it was "very meaningful" that Brazil sent its current foreign minister to Rouhani's inauguration, particularly after relations between Tehran and Brasilia had cooled off after Lula stepped down and Dilma Rousseff's term in office began.
"This indicates a willingness to talk, but the president is not going," said Santoro. "It cannot be considered a political declaration of intent."
No Latin American presidents attended, in fact. Most of the countries closest to Iran sent ministers or vice presidents.
Not all Latin American countries share the enthusiasm. "We do not feel the support from Iran," said Bolivian analyst Carlos Toranzo. "Our relationship with them is more trouble than it's worth -- it makes us the focus of doubt from other countries in the West."
Argentina went even further, saying Iran's interest in the continent was only to "further and promote terrorist behavior."
In his inauguration speech, Rouhani's word of choice was "moderation," and he took the opportunity to ask for the end of U.S.-backed international sanctions against Iran over its nuclear program.
© Copyright IBTimes 2022. All rights reserved.
FOLLOW MORE IBT NEWS ON THE BELOW CHANNELS