Iraqi Forces Showed 'No Will To Fight' ISIS In Ramadi, Defense Secretary Ash Carter Says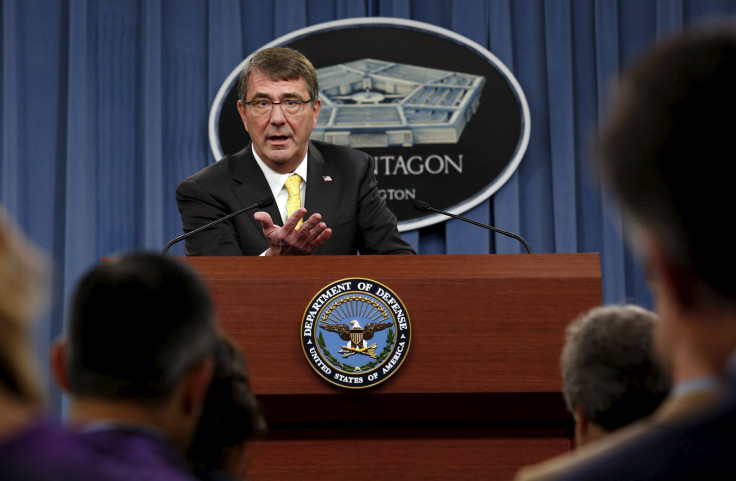 United States Defense Secretary Ash Carter said the Islamic State group's recent seizure of Ramadi, Iraq, was successful because the Iraqi soldiers had "no will to fight." In an interview aired Sunday on CNN, Carter said he was concerned that the troops didn't appear to be passionate about staving off the advances of the group, also known as ISIS or ISIL.
"They were not outnumbered," he said. "In fact, they vastly outnumbered the opposing force, and yet they failed to fight, they withdrew from the site, and that says to me, and I think to most of us, that we have an issue with the will of the Iraqis to fight ISIL and defend themselves."
Ramadi, a city about 70 miles from Baghdad and capital of the Anbar province, fell to ISIS last Sunday. Iraqi forces abandoned hundreds of pieces of American equipment as they fled the city, including tanks and Humvees, the Associated Press reported. U.S. airstrikes began destroying the equipment on Thursday and Friday.
Their defeat inspired debate about the role of the U.S. in the overseas fight, though Carter seemed to put the blame squarely on the Iraqi military. He said that the U.S. can give the troops training and equipment but not spirit.
"If there comes a time when we need to change the kinds of support we're giving to the Iraqi forces, we'll make that recommendation. But what happened in Ramadi was a failure of the Iraqi forces to fight," Carter added.
Tribal leader Amir al-Fahdawi told Reuters Saturday that Iraqi soldiers' morale was high as they pushed back against ISIS fighters in the region. In the meantime, Carter said the U.S. would continue to send over thousands of weapons and rounds of ammunition.
"So our efforts now are devoted to providing their ground forces with the equipment, the training and to try to encourage their will to fight, so that our campaign enabling them can be successful both in defeating ISIL and keeping ISIL defeated in a sustained way," he added.
© Copyright IBTimes 2023. All rights reserved.