Iraqi Uprising Exposes Global Oil Prices To Risk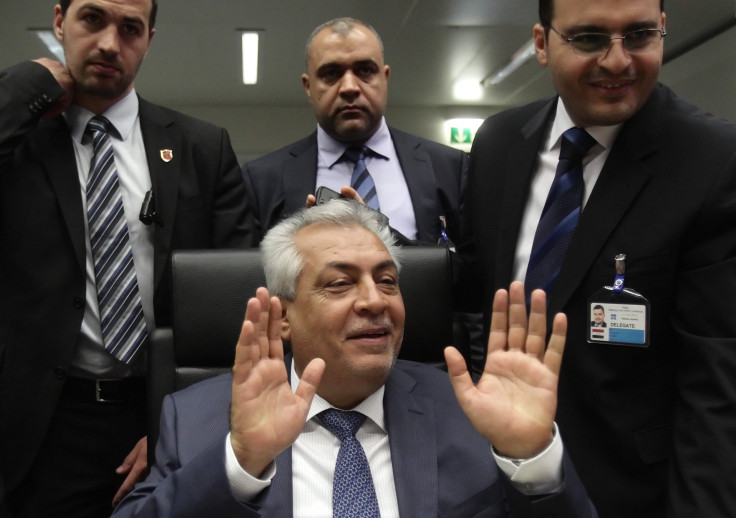 An armed uprising in Iraq led by a masked terror group could ratchet up global oil prices just after the Organization of the Petroleum Exporting Countries (OPEC) agreed to stick with its cap on production Wednesday.
According to the Paris-based International Energy Agency, the rise in unconventional oil production in North America is enough to meet growing global demand in the near term, but towards 2020, non-OPEC oil supply will likely tail off, requiring "substantial growth in production of crude oil and natural gas liquids from the OPEC countries."
"Americans seem to think that the vast increase in domestic oil production from shale deposits has immunized the U.S. economy from Middle East instability. Not by a long shot," Ken Pollack, a senior fellow at the Brookings Institution, wrote Tuesday in an op-ed for the Wall Street Journal.
Oil futures rose on Wednesday as the latest violence in Iraq rattled the market. Brent crude traded in London hit $110 a barrel after Islamic militants advanced on Iraq's biggest oil refinery Wednesday, a day after they took control of Mosul, the country's second-largest city. The armed Sunni fighters took control of a refinery in a town called Baiji that can process 300,000 barrels of oil per day, nearly 9 percent of Iraq's total daily production of 3.5 million barrels a day.
Saxo Bank's vice-president and head of commodity strategy Ole Hansen told the Telegraph newspaper that, "The worst case scenario is that we see production from Iraq slip down to levels in the last Gulf war, then oil could spike $20 a barrel very quickly. In that scenario, the entire economic recovery, which is still fragile, could stall and we could even slip back into recession in some regions."
Iraq's oil minister Abdul Kareem Luaiby said at OPEC's meeting that his country's oil comes largely from the southern region. "The accident is only in the north of Iraq… the south is a very, very safe area," he said.
And OPEC said in a statement that member countries affirmed they would "if required, take steps to ensure market balance which is so important to world economic activity." Member countries also "reiterated their willingness to firmly respond to developments that might jeopardize oil market stability," OPEC said.
Both Iraq and Iran have planned to increase oil production in the next few years. Iran hopes Western sanctions imposed over its nuclear program will be lifted and allow it to reclaim its rank as the No. 2 producer in OPEC from Iraq.
"If this unrest can be contained and Iraqi production continues to rise, the bigger news in oil markets might be if Iran can successfully negotiate the lifting of Western sanctions," Kyle Davis, an energy expert at international law firm Goltsblat BLP, said.
But Iran's production is not guaranteed, and the terror group in Iraq could stunt any production growth if its control expands.
"The shocking escalation in violence in Iraq raises the prospect of potential output losses," Helima Croft, Barclays' head of North American commodities research, said in a note Wednesday. "It comes as other key producers, like Libya, have also seen exports 'evaporate' amid rising unrest. Iraqi oil is an important swing factor. The south of the country is not beyond the geographic reach of extremist groups seeking to foment civil unrest."
U.K.-based oil drillers doing work in Iraq are watching the situation in the north unfold but don't have any plans to pull crews from the country, according to the Telegraph.
Iran has the second-largest oil reserves in the world, while Iraq's under-developed gas reserves could double with proper exploration, Luay Al-Khatteeb, visiting fellow at Brookings Doha Center, which provides policy analysis on the Middle East for Brookings Institution, noted last month.
Though Iran and Iraq could supply the world market with more affordable oil and gas, they "have been hamstrung by political barriers, be they international economic sanctions or the need to combat domestic political instability and terrorism," Al-Khatteeb said.
Despite Iran and Iraq's pledges to increase production, OPEC has agreed to leave its total production target of 30 million barrels a day for the year, the Nigerian oil minister announced Wednesday after the cartel's meeting in Vienna. The conference of oil ministers representing 12 member countries noted that world oil demand is forecasted to rise from 90 million barrels a day in 2013 to 91.1 million barrels a day this year, while non-OPEC supply is expected to grow by 1.4 million barrels a day this year if OPEC supplies remain near its 30 million barrels-a-day ceiling.
© Copyright IBTimes 2023. All rights reserved.
FOLLOW MORE IBT NEWS ON THE BELOW CHANNELS