Iraqi VP Al-Hashemi Hides Out In Turkey After Court Imposes Death Sentence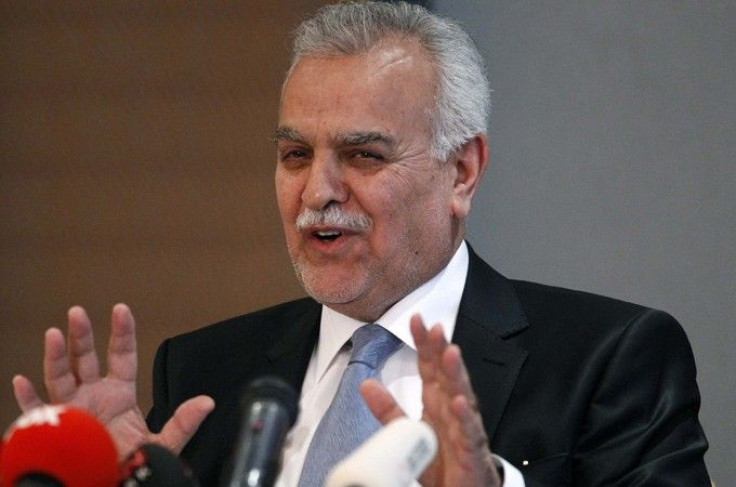 Nothing quite like a death sentence to keep you from ever seeing your home again. On Sunday, The Criminal Court of Iraq passed down a death sentence on former Vice President Tareq al-Hashemi, Iraq's most prominent Sunni politician.
He was found guilty in absentia of the murder of a female lawyer and a Shia Muslim general, and sentenced to hang.
The trial, which began in May, included 150 charges against Hashemi. Among other crimes, he is accused of running "death squads" following the 2003 U.S. invasion of Iraq. Hashemi's son-in-law and one of his bodyguards were also sentenced.
Fortunately for Hashemi and his neck, he is no longer living in Iraq. When he was first charged, Hashemi fled to Iraq's Autonomous Kurdish Region, and then to Qatar. While there, ostensibly to meet with Qatar's ruling Emir Sheikh Hamad bin Khalifa al-Thani, Iraqi Deputy Prime Minister Hussain al-Shahristani demanded that he be returned to Iraq. Qatar refused to extradite him, and Hashemi moved on to Saudi Arabia, and then to Turkey.
Speaking to reporters on Monday in Turkey, Hashemi said the trial and verdict were purely "politically motivated."
"Yesterday [Iraqi] Prime Minister [Nouri] al-Maliki and his judiciary concluded the final phase of the theatrical campaign against me using a kangaroo court set up for this purpose. It was really a shambles," Hashemi said, according to Al-Jazeera. "Therefore, while reconfirming my and my guards' absolute innocence, I totally reject and will never recognize the unfair, the unjust, the politically motivated verdict."
Turkey is a Sunni-dominated society.
"My people, don't give Maliki and those who stand behind him the chance," Hashemi pleaded, according to Reuters. "They want to make this a sectarian strife. Oppose his conspiracies and provocation calmly ... People should not stay silent on the unprecedented oppression in Iraq."
Hashemi, a Sunni Muslim, is a minority in the Shiite-led Iraqi government, and is known to be a harsh critic of Shiite Prime Minister al-Maliki. The Iraqi government is supposed to have a power-sharing system between the Shias, Sunnis, and Kurdish Muslims.
Many Sunnis in the Iraqi government have spoken out against Maliki's perceived failure to properly share power among the various parties. But the delicate power balance has been more than a little wobbly since the U.S. withdrew its troops in December 2011, the same month Hashemi was charged with murder.
The same day Hashemi was sentenced, car bombs in Baghdad's Shiite districts killed around 80 people. The latest attack has heightened fears that Sunni insurgents are gaining traction and that the violence in the country may return to the post-invasion levels.
Hashemi is likely to never return to Iraq.
© Copyright IBTimes 2023. All rights reserved.