Irene Path Update: Storm Makes Landfall, 2.5 Million Evacuation Orders on East Coast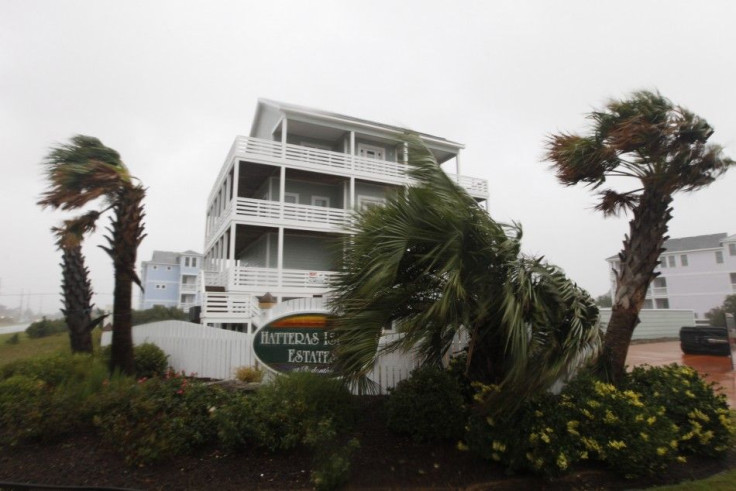 The latest developments from Hurricane Irene:
**Irene makes landfall in North Carolina
**At least 2.5 million on U.S. East Coast under evacuation orders
**End of Atlantic Beach, N.C. pier falls into water from wind, waves impact
**Almost 7,000 flights have been canceled through Monday
**Power outages multiply in N.C. and some areas see eight inches of rainfall already
**New York, New Jersey transit systems shutting down at noon
**Storm still on track to hit New York at hurricane strength
After days of watching, watching and wondering, Hurricane Irene finally made it ashore in North Carolina on Saturday, as heavy winds, rain and surf pounded the area. Threats of mass power outages and flooding are now the concern, as Irene pounds the North Carolina coast as a Category 1 storm before moving up the coast along the I-95 corridor.
The eye of the Irene crossed the North Carolina coast near Cape Lookout around 7:30 a.m. ET, forecasters at the U.S. National Hurricane Center said. The was moving north-northeast along the Coast. Irene is expected to remain a hurricane as it hit the mid-Atlantic states on Saturday night and New England on Sunday.
Irene was packing winds of 85 miles per hour when it made landfall, after weakening from a Category 2 storm on Friday. Forecasters are warning, however, that the threat of Irene is not diminished and that the latest path update shows the large, mighty storm remains on track to ride up the east coast, striking the high-population corridor and likely making a direct hit on New York City.
New York has ordered unprecedented evacuations and transit shutdowns. Subways and buses will stop running at noon on Saturday, and more than 300,000 have been evacuated with mandatory orders, including one for the city's financial district. Hurricane warnings impact a massive 29 million people along the U.S. East Coast, and the storm's 600-mile width will hurl impact of heavy wind and flooding rains far beyond the storm's eye.
We've never done a mandatory evacuation before and we wouldn't be doing it now if we didn't think this storm had the potential to be very serious,'' said New York Mayor Michael Bloomberg.
New York is likely to experience a storm surge of some four to seven feet. Among the city's greatest infrastructure concerns is water flooding subway systems and causing long-term damage, especially if salt from the Atlantic seeps in with corrosive impact.
Already, North Carolina is experiencing large power outages as Irene hit land. Progress Energy, an electrical utility in Atlantic Beach, North Carolina, has already lost power to 200,000 customers by early mid-morning Saturday. Also, some areas of North Carolina have already received eight inches of rain.
Airlines serving the East Coast have already canceled more than 7,000 flights through Monday, and all three New York area airports are set to close to incoming flights at noon on Saturday.
U.S. President Barack Obama said the storm, posing a threat to nearly one-third of the nation's population and infrastructure, could be extremely dangerous and costly.
Virginia's coast is set for assault from the eye of Irene, and Gov. Bob McDonnell says the storm will make a mighty impact.
For most, it will be the most significant weather event of their lifetime, he said on Friday.
Asked later Friday about Irene's weakening, according to the Richmond Times Dispatch, McDonnell spokesman Tucker Martin said, Irene is a large and significant storm. This is no time for anyone to let their guard down. All Virginians should continue to closely monitor this very dangerous hurricane and rush their preparations to completion prior to the storm's arrival.
© Copyright IBTimes 2023. All rights reserved.