ISIS Attacks Egypt: Islamic State Group Kills 12 Egyptian Security Force Officers At Checkpoint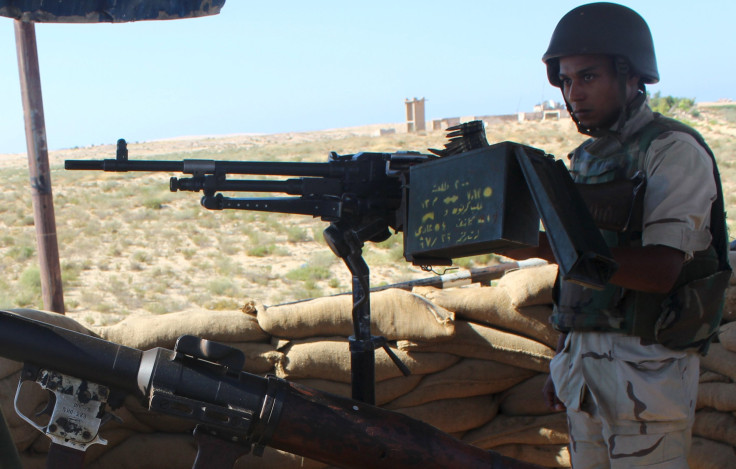 Islamic State group supporters ambushed Egypt's security forces at a checkpoint Friday, killing 12 law enforcement officials and injuring eight others in the North Sinai province, Reuters reported. It was the first major attack in the central Sinai area, signaling that the militant group also known as ISIS may be extending its reach in Egypt.
The militants known as Ansar Bayt al-Maqdis to Sinai Province carried assault rifles and some heavier weapons. It's unclear if the victims worked for the military, the police or a joint force.
Ansar Bayt al-Maqdis to Sinai Province, which translates as "Champions of the Holy House," has previously carried out deadly attacks against soldiers and policemen within Egypt. The group also attacked an Egyptian pipeline that exported gas to Jordan and Israel in July 2012. Ansar Bayt al-Maqdis to Sinai Province pledged allegiance to ISIS in 2014 as the group seized power in Iraq and Syria.
Islamic militants became active in the Sinai peninsula after the Egyptian military ousted elected President Mohamed Morsi in mid-2013 following mass protests. Morsi rose from the Muslim Brotherhood, Egypt's oldest Islamist movement.
The Egyptian army announced in August it had killed the leader of the Ansar Bait al-Maqdis movement, identified as Abu Duaa al-Ansari, in airstrikes targeting the ISIS affiliate's strongholds.
U.S. military officials have closely watched the rise of ISIS in Egypt, and debated whether to send additional troops to the region to help quash the movement.
"I don't think anyone is talking about a full-scale withdraw. I think we are just looking at the number of people we have there to see if there are functions we can automate," Navy Capt. Jeff Davis, a Pentagon spokesman, told Military Times in April. "We know that ISIL is active in the Sinai," Davis said, referring to the Islamic State group. "It's a situation there that has risks, and we want to make sure we're addressing those risks appropriately."
© Copyright IBTimes 2023. All rights reserved.