ISIS Bombing On Easter? Palm Sunday Egypt Islamic State Bombings Leave Christians Frightened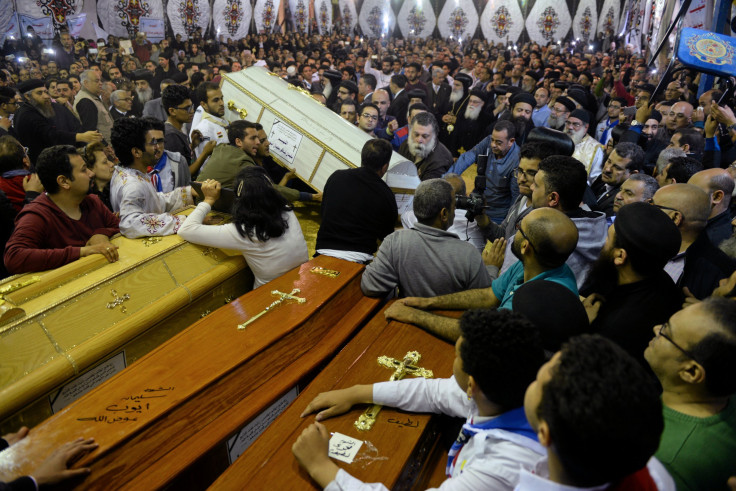 In the aftermath of two deadly bombings that targeted Coptic Christian churches in Egypt on Palm Sunday, the Egyptian Christian community was left reeling.
Two suicide bomber attacks were carried out on Palm Sunday, a holy Christian holiday, which resulted in at least 44 people dead and left countless more injured. The attacks took place just hours apart, one in Tanta and the other at St. Mark's Cathedral in Alexandria, Egypt. The attacks were claimed by the Islamic State group, and both bombings were said to have been timed to impact the greatest number of churchgoers.
The attack at St. Mark's Cathedral took place just outside of the entrance to the church and occurred during a Palm Sunday service given by the head of the Egyptian Christian community, Coptic Pope Tawadros II, the New York Times reported.
The second attack occurred inside of St. George's church located in Tanta, where the attacker detonated a bomb from the front pews of the church. The attacks commenced during one of the holiest weeks on the Christian calendar.
The gruesome bombings have left the Coptic Christian community in fear for their safety, especially in the week ahead. Easter is scheduled for this Sunday — exactly one week after Palm Sunday — another significant religious date that ISIS could use as motivation to launch another attack against Christians.
Despite heightened security detail around St. George's church, the suicide bomber managed to sneak past the security and a metal detector.
"It feels so scary at the moment, the picture is very grim," Ishak Ibrahim, a Coptic Christian, told BBC News Monday. "If the Coptic Pope [Tawadros II, head of the Egyptian Christian Community] has been targeted, how can Christians feel safe? The message sent out to Christians is that you are vulnerable wherever and whenever."
Coptic Pope Tawadros II was expected to meet with Pope Francis during Pope Francis's visit to Egypt later this month.
Coptic Christians account for the majority of Christians in Egypt, and the community has been the target of sectarian violence over the years, according to CNN.
© Copyright IBTimes 2023. All rights reserved.
FOLLOW MORE IBT NEWS ON THE BELOW CHANNELS