ISIS Clothing For Sale As Indonesian Retailers Cash In On Iraq Crisis [PHOTOS]
As name recognition grows for the Islamic State of Iraq and Syria, the al Qaeda offshoot whose rapid advances in Iraq have alarmed the world, online retailers are cashing in, supplying everything from ISIS-themed hoodies and polo shirts to action figures based on the Sunni militant group.
Mostly based in Indonesia, the retailers have set up shop on Facebook to hawk their wares. Kaos Islamic State of Iraq and Sham, a Bandung, Indonesia-based outlet, sells black T-shirts featuring the phrase "We Are All ISIS" with a gun similar to an AK-47 and Arabic text above. The shirts, along with other variants of ISIS clothing, sell for around $7 on retailer's Facebook page.
Also in Indonesia, Rezji.com, the self-proclaimed "ultimate clothing brand for [the] Islamic movement," urges Muslims to "support" ISIS by buying polo shirts with an ISIS badge emblazoned on the left side of the chest. The "100% Super Cotton" shirts go for about 80,000 rupiahs ($6.67) plus a "bonus inside" that ships with an order.
For 50,000 rupiahs ($4.17), the online retailer sells ISIS figurines clad in all-black clothing and clutching a rifle. Similar figures show figures in traditional Muslim garb wearing a shirt with the Palestinian flag on it. Orders come with a "bonus sticker."
Kavkaz (Caucasian) Struggle Wear, also based in Bandung, publicized its "Jihad Series" of T-shirts, which show keffiyeh-draped men clutching a rifle with the words "Jihad is our choice" written below.
ZirahMoslem.com, a clothing retailer that has about 9,000 Facebook likes, specializes more in general jihad-based duds than focusing on ISIS. The Indonesia-based company sells hoodies with the face of Hamas founder Sheikh Ahmed Yassin on them for 150,000 rupiahs ($12.51.) Other Hamas hoodies featuring the Al-Qassam Brigades, the Palestinian group's military arm, are sold out.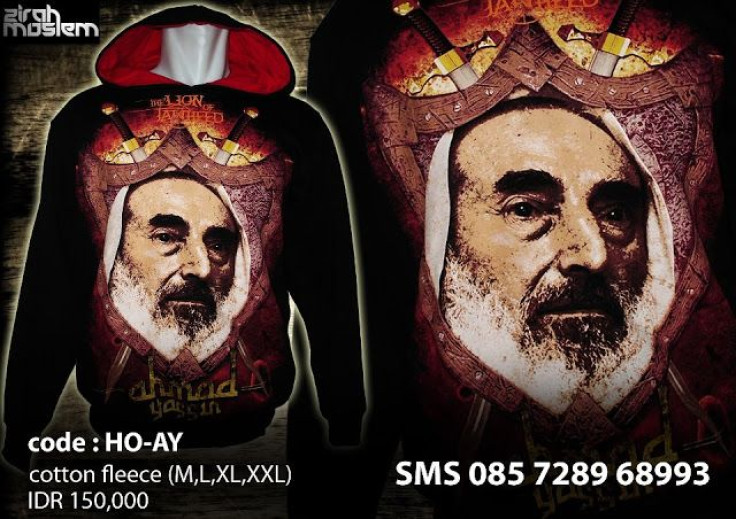 The website also features "anti-Zionist" T-shirts, including one showing a sword going through the skull of a skeleton wearing a Jewish star headband (also sold out.) Other T-shirts show men looking like they're posing for action movies. In one, the shirt proclaims "We Declare War" and "Fight Against Zionist."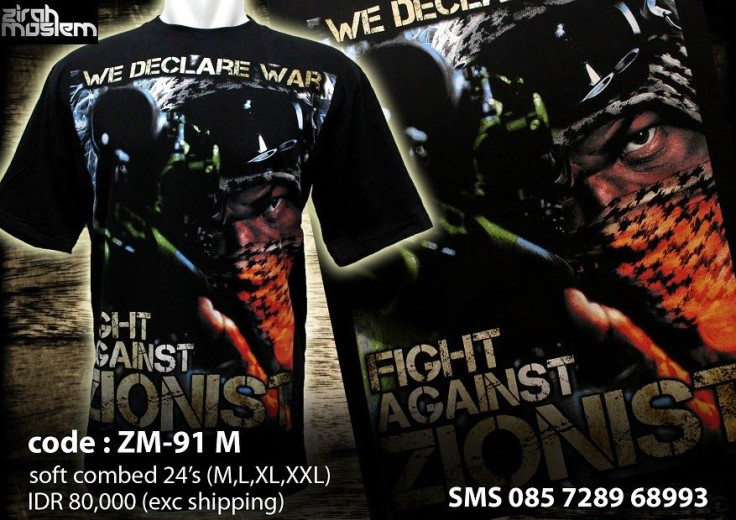 ISIS took control over Iraq's second-largest city, Mosul, earlier this month and has taken most of northwestern and north-central Iraq, leading U.S. President Barack Obama to send 300 troops to aid Iraqi security forces in the conflict against ISIS and other extremists.
© Copyright IBTimes 2023. All rights reserved.
FOLLOW MORE IBT NEWS ON THE BELOW CHANNELS