ISIS In Malaysia: Saudi Arabia King Salman Assassination Plot Foiled As Authorities Arrest Islamic State Militants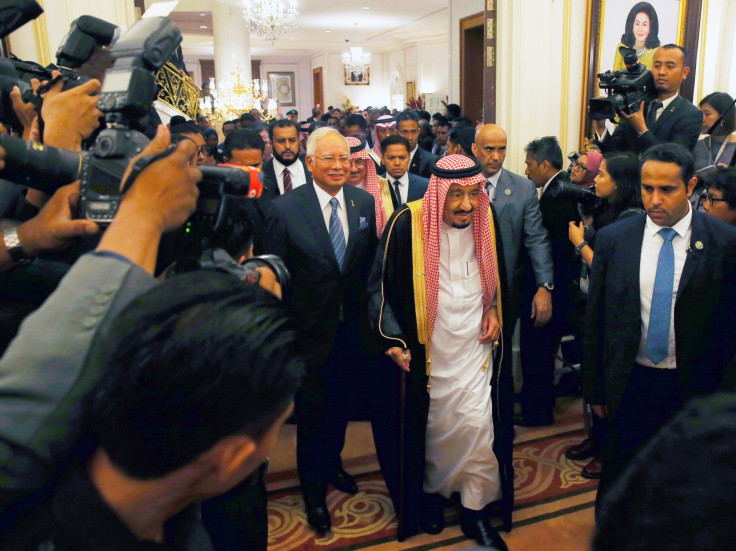 Malaysian authorities revealed Tuesday they had arrested several militants accused of plotting to assassinate Saudi Arabia's King Salman bin Abdul Aziz Al Saud ahead of the monarch's visit to Kuala Lumpur. Police chief Khalid Abu Bakar told press that seven suspects were captured between Feb. 21 and Feb. 26, before and during Salman and his delegation's four-day visit to the Malaysia, which ended Wednesday and was the first stop on the royal's massive, month-long tour of Asia.
Khalid said his counterterrorism forces nabbed two Malaysians and an Indonesian linked to the Islamist State group, also known as ISIS, as well as four Yemenis believed to be loyal to militants operating in their native, war-torn country. He said the group would be charged with terrorism offenses, including a plot by the Malaysians and Indonesian that involved a "vehicle-borne improvised explosive device," according to Reuters.
"They were planning to attack the Arab royalties during their visit in Kuala Lumpur," Khalid told reporters, according to local media outlet Malay Mail Online. "Thank God we got them in the nick of time. They didn't manage to get close."
The Yemenis were possibly linked to the Houthi movement, a group associated with the country's Zaidi Shiite minority and that took power after ousting former, Saudi-backed President Abbed Rabbo Hadi from power in a 2014 uprising. Saudi Arabia and a number of allied nations intervened on behalf of the exiled leader in 2015, beginning a conflict that has killed at least 10,000, displaced millions and has created a food crisis for over half the people living in the Arab World's poorest country, according to the U.N.
In Malaysia, as in neighboring Indonesia, an extremely conservative form of Islam inspired by Saudi Arabia, has grown in popularity in recent years and presented a challenge to the multicultural nation. The proliferation of radical ideology has also prompted concern over the potential for increased activity on behalf of militant groups such as ISIS, which has conducted terror attacks in Indonesia. Rallies took place last month calling for greater jurisdiction of Islamic law in Malaysia, while security forces have arrested hundreds of locals suspected of having links to jihadist groups over the past few years.
News of the suspects' arrests came as an international drama unfolded between Malaysia and North Korea over the apparent assassination of North Korean leader Kim Jong Un's exiled half-brother, Kim Jong Nam, in a Malaysian airport last month. Malaysian authorities suspect North Korean government involvement in the killing, something Pyongyang has rejected.
© Copyright IBTimes 2023. All rights reserved.