ISIS Mass Kidnapping Fears: Hundreds Missing Near Damascus Amid Islamic State Group Offensive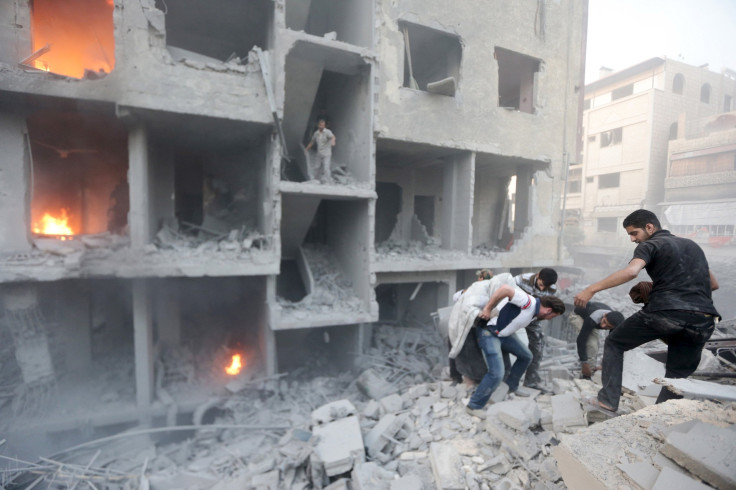 Some 250 Syrian civilians have gone missing after an Islamic State group assault on a cement factory outside Damascus — and many fear they may have been kidnapped by the extremist group aka either ISIL or ISIS. The attack on the factory was carried out as the militant group stepped up attacks around the Syrian capital amid losses elsewhere in the country, possibly resulting in dozens of deaths.
"We haven't been able to reach our family members since noon on Monday after an attack by Daesh on the factory," said a resident of Dumeir, a town 30 miles east of Damascus, using an Arabic acronym for ISIS, Agence France-Presse reported. A factory manager said it has been unable to reach 250 employers since the attack.
The Syrian Observatory for Human Rights, a Britain-based monitoring group, said dozens of workers were believed to have been taken to an unknown location. The Badiyah cement factory outside Dumeir has been a hot spot for clashes in recent days.
ISIS launched a series of attacks on territory held by President Bashar Assad's embattled regime Wednesday, various reports indicated. A string of car bombs targeted government forces near the Dumeir military airport, possibly killing 12 soldiers. The extremist group said in a statement it also launched an assault on the Tishreen power plant.
Government forces fired artillery and launched airstrikes against the militant group, pushing its fighters back from the sites. The Syrian Observatory for Human Rights reported that 18 civilians were killed by government shelling in Dumeir.
The latest violence has come after ISIS has lost ground in the last year, including as much as 20 percent of the land it controlled in Syria and 40 percent of the territory it held in Iraq. The extremist group last week lost its grip to the Syrian military on the ancient city of Palmyra, which it captured last summer.
Assad's government and Syrian rebels are about a month into a cessation of hostilities, which has led to a reduction in violence in the 5-year-long civil war that has displaced almost one-half the country's population. Neither ISIS nor the al Qaeda-affiliated Nusra Front is a party to the ceasefire agreement.
© Copyright IBTimes 2023. All rights reserved.
FOLLOW MORE IBT NEWS ON THE BELOW CHANNELS