ISIS Militants Kill Hundreds Of Yazidis In Mosul, Iraq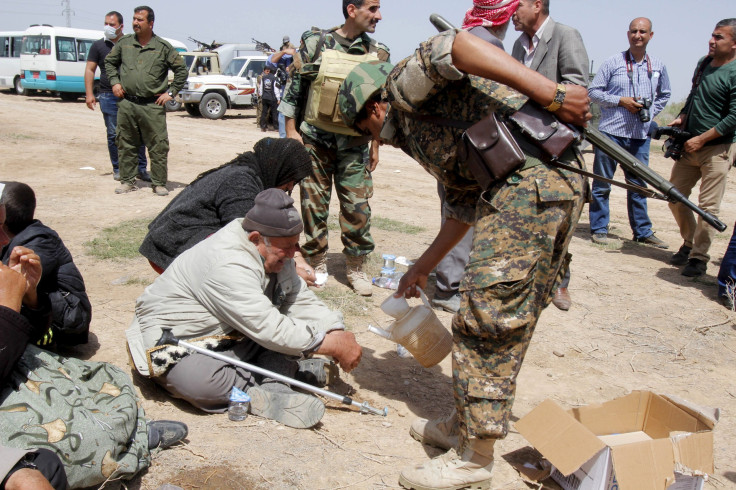 Several hundred Yazidi captives have been slaughtered by Islamic State group militants near Mosul in Iraq, according to reports.
According to the Yazidi Progress Party, the captive Yazidis were killed on Saturday in the city's Tal Afar district. According to Shafaq News, the party condemned the "heinous criminal acts" committed by the terror group.
Iraqi Vice President Osama al-Nujaifi described the mass killing as "horrific and barbaric." It is not clear how the slain Yazidis were killed, or why the killings took place at this time.
Forty-thousand Yazidis were kidnapped at gunpoint when ISIS attacked their villages last summer. Some Yazidi women were held and sold in markets as sex slaves. The religious minority group, whose ancient religion has elements of Zoroastrianism, Christianity and Islam, have been persecuted by ISIS, who regard them as infidels.
Thousands fled to the Kurdish-controlled region of northern Iraq after ISIS captured the Yazidi-populated Sinjar district in Nineveh province.
In January, ISIS released some 200, mainly elderly, Yazidis into the hands of Kurdish officials near the city of Kirkuk. Many of them, women, children and the elderly, held in Mosul, had disabilities or were wounded and were said to be in poor health, and showed signs of abuse and neglect.
The freed Yazidis were taken away by ambulances and buses to receive medical treatment. No explanation was given for the release of the prisoners, which took place in Himera just southwest of Kirkuk, 180 miles north of Baghdad.
In March, the United Nations Human Rights Office published a report describing the savage killings, torture, rape and sexual slavery of Yazidis, perpetrated by Islamic extremists.
The jihadists consistently separated out men and boys over the age of 14 to be executed, according to investigators. Younger boys were forced to become child soldiers and women and girls were abducted as the "spoils of war." The UN condemned the acts of violence, rape and abuse of children as war crimes.
In light of the mass killing, the Yazidi Progress Party called on the Iraqi government and international organizations to intervene to facilitate the release of the remaining captives.
This article is copyrighted by IBTimes.co.uk, the
business news
leader
FOLLOW MORE IBT NEWS ON THE BELOW CHANNELS