ISIS Moving In On Libya's Oil Fields, Recruiting Engineers To Boost Revenue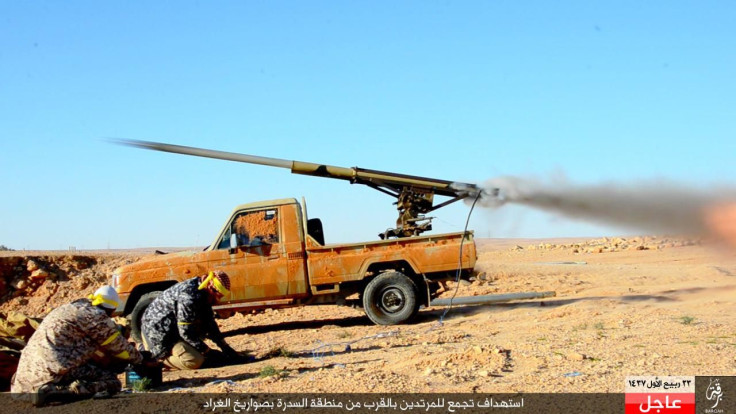 Amin Mneina recalls how Libya's 2014 legislative election — the first since Libyan dictator Moammar Gadhafi was ousted — started with a sense of excitement and ended in civil war. The 28-year-old field engineer was laid off from his position at Schlumberger, the world's largest oil field supplies company, after it scaled back its operations in response to spiraling violence. Two years on, Mneina has managed to find another job, but the surge in terrorism that made his former position untenable shows no sign of subsiding.
At least 47 people were killed, and dozens injured, in a truck bomb at a police training center in western Libya on Thursday. Aamaq, a media organization linked to the Islamic State group, said the militant organization was behind the"martyrdom operation" although the group has yet to claim responsibility. The attack comes days after ISIS launched its first operation on Es-Sidra, Libya's largest oil export port and took control of the surrounding region. But the biggest sign that the group is after Libya's oil is a new document obtained by International Business Times, which reveals the terrorist organization is recruiting oil and gas engineers to work in Libya — the very same jobs that Mneina and his colleagues have been desperately searching for.
Mneina now works as a regional engineer at an international development company. Many of his colleagues haven't been as lucky. "I had to choose between [getting laid off] or signing an unpaid leave," Mneina said. "I chose the second option. It wasn't just Tripoli. The field employees were from all over Libya. Almost all of my colleagues got laid off."
For the last two years, Libya has been at the mercy of rival governments and local militias, resulting in the deaths of some 4,400 people and an economy on the verge of complete collapse. Last month, the two major rival political factions signed a U.N.-brokered unity government deal hoping to gain international legitimacy and end the conflict. But Libyans are not confident the deal will succeed and many fear that ISIS has made any chance of lasting peace even slimmer.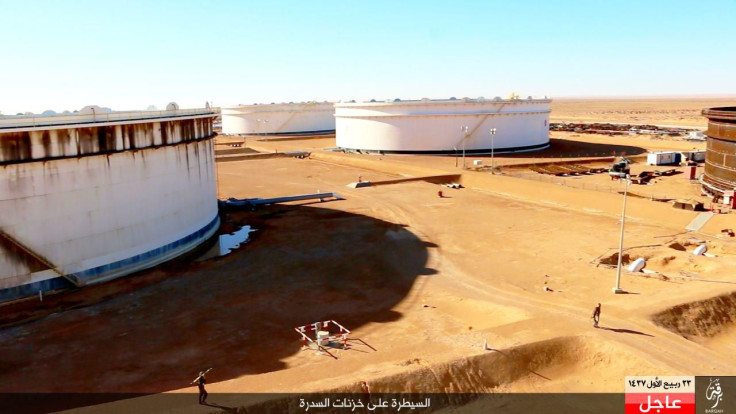 The Islamic State Of Libya
On Monday, ISIS launched an attack on the Es-Sidra and Ras Lanuf oil export terminals in the Libyan coastal province of Sirte, home to 80 percent of Libya's oil reserves. Fighting around the oil facilities is ongoing and ISIS reportedly carried out a car bombing at Ras Lanuf on Thursday.
The terrorist group has been active in Libya since last October, declaring three "wilayats," or states, within the country. ISIS has also begun governing by Shariah law in some areas, carrying out executions and arrests. Its three self-declared states are connected under one leader and coordinate their operations, according to a report from the Institute for the Study of War. However, each has its own media, military, training and recruitment operations.
The recent attack on Libya's oil has all the hallmarks of ISIS' strategy in the early stages of its rise in Iraq and Syria where, last month, the U.S. claimed that the international coalition's airstrikes had succeeded in destroying 90 percent of ISIS' oil export capacity — cutting off a major source of the group's funding. Experts believe ISIS leadership in Syria planned the Sirte operation for months before executing the string of attacks on oil facilities.
"I see what ISIS is doing in Libya as a direct extension of what it has done in Iraq and Syria in terms of securing a piece of terrain and then moving [onto] its critical infrastructure, which is, of course, the oil facilities in Libya," Katherine Zimmerman, a research fellow at the American Enterprise Institute, told IBT.
Recruitment In Libya
Libya's oil is an attractive source of revenue for the militant group: The North African nation has the largest crude oil reserves on the continent and was producing roughly 1.65 million barrels daily until 2011, more than three-quarters of which went to European countries, with Italy importing a majority of the barrels. The OPEC member's oil production took a brief hit during the 2011 uprising but bounced back until mid-2013 when violent clashes broke out again. Today, most of Libya's crude oil facilities are closed and the average production in 2015, according to the U.S. Department of Energy (EIA), was just over 400,000 barrels a day with daily exports of 250,000-300,000 barrels.
The terrorist organization has an eye on reviving Libya's flagging oil fortunes: IBT obtained a document from an ISIS supporter in Libya listing a number of specialist professions the group is trying to recruit in Libya. The list included general engineers, oil and gas specialists, physicists and explosive specialists.
"That's expected of them," Mneina said. "They sure don't know how to run [the] oil industry and they're fighting and losing men to take control of that."
ISIS fighters' inexperience with Libya's oil facilities could provide the same jobs that Libyans have been lacking since the violence increased two years ago, putting many oil field experts out of work. But Mneina said it was unlikely that many Libyans would be tempted to work for ISIS, no matter what difficulties they faced.
"People here can improvise if they're unemployed and get by with life just fine. There should be no excuse except being threatened that makes it OK to work for [ISIS]."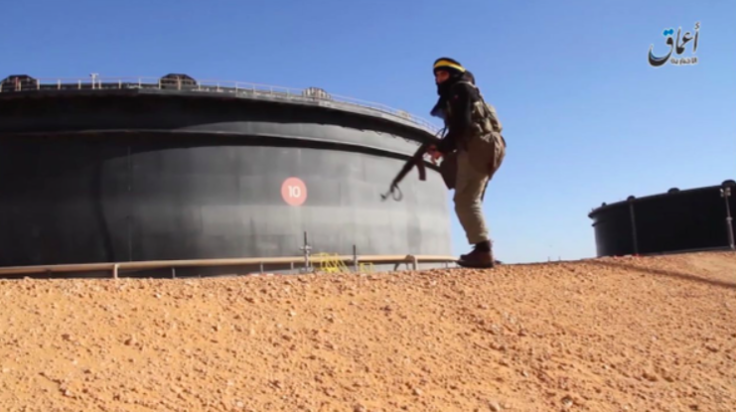 Oil Creates Chaos
But oil sector workers are suffering — unemployment has risen sharply in the last two years, after European companies, including Italy's ENI and France's Total, decided to significantly scale back operations and, in some cases, close down completely. Mohamed el-Harari, spokesman of Libya's National Oil Corporation, told IBT that Libya's oil ports that came under ISIS attack have been closed since a state of emergency was declared Nov. 13, 2014.
"The Islamic State affiliates will certainly face challenges if they attempt to produce and export oil, especially in Sidra area where the pipelines that link the oil field to the terminal and port were destroyed," el-Harari said.
"Even if they can get the oil I don't see how they can sell it," said Karim Mezran, a senior fellow at the Atlantic Council, a Washington think tank. "Smuggling won't be easy from Sidra. It won't be as rewarding for them as Iraq is."
Despite doubts about ISIS' revenue stream, the group's territorial gains will do much to spread chaos and entrench economic decline in a country that continues to teeter on the edge of economic collapse.
"[ISIS seizing oil fields] prevents other groups from generating income through those fields. Control over the oil facilities in Libya has been one of the scenes that has driven the conflict," Zimmerman said. "So when you look at why there is this multi-sided conflict in Libya ... it comes down to who ends up in control of the oil."
© Copyright IBTimes 2023. All rights reserved.