ISIS Stones Gay Man To Death In Syria, Where Homosexuality Is Criminal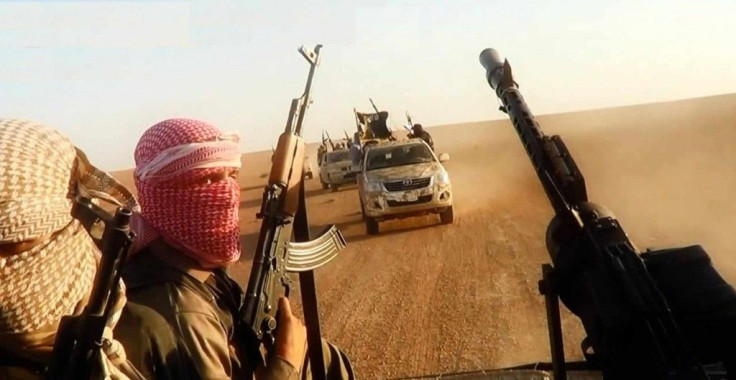 The Islamic State group has released chilling images purporting to show a man stoned to death in western Syria for being gay, the Daily Mirror reported Thursday. The photographs reportedly show a blindfolded man who was accused of homosexuality in a field in Homs with his hands bound behind his back, as a crowd of supposed ISIS militants throw rocks at him from behind.
This is not the first time the Islamic State group – also known as ISIS or ISIL – reportedly killed someone for being homosexual. Two Syrian men, ages 18 and 20, were separately stoned to death for being gay last year, according to the Syrian Observatory for Human Rights. Activists said the militants used the victims' sexual orientation as an excuse to execute them, after the men openly expressed their opposition to ISIS, Agence France-Presse reported.
LGBT discrimination in Syria is not unique to ISIS. Homosexuality is illegal under Syrian law, with a maximum sentence of three years in prison. The regime of Syrian President Bashar Assad tried to squash the civil uprising by calling them gay. "Homosexuals are the easiest target, which all Syrians would agree with," Shadi, a gay Syrian who had fled to Raqqa, said in a 2013 interview with Vice. "The regime started a homophobic campaign to say that the revolution is immoral because people who own the news channels, which are supporting it, are homosexuals. They went further by saying that everyone who is active in the revolution is gay."
Although Syria was never a haven for the LGBT community, the civil war has made their situation especially perilous. Many gay men have fled Syria and taken refuge in Lebanon, which has taken steps to strengthen a human rights culture in the last few years, according to the Human Rights Watch group in Washington.
"In Syria's savage war, it seems incongruous to single out the experiences of one group. Yet many gay men there face a double threat: They're being persecuted by the Syrian army and by militant groups while their families often reject them, or worse," Graeme Reid, the LGBT rights program director at Human Rights Watch, wrote in a statement last year.
© Copyright IBTimes 2023. All rights reserved.