ISIS Executes Two Men For 'Being Gay' By Stoning Them In Deir Ezzor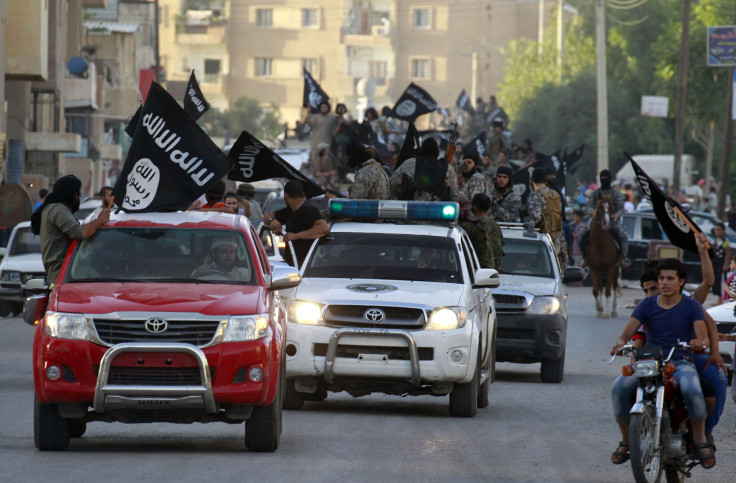 The Islamic State group reportedly executed two people in the Syrian province of Deir el-Zour Tuesday. Their crime? Being gay. This is the first report that Islamic State militants killed someone for being homosexual since the group declared its caliphate during the summer.
Two Syrian men, 18 and 20, were separately stoned for being gay, according to the Syrian Observatory for Human Rights.
The first man was stoned to death in the Deir el-Zour town of Mayadeen, on the border with Iraq, after the group formerly known as ISIS found cell phone videos purporting to show the man "practicing indecent acts with males," the human rights group said. The second, younger man was executed in the Deir el-Zour capital without any proof.
Activists claimed the men were executed because they openly expressed their opposition to ISIS, and militants used their sexual orientation as an excuse, according to the AFP.
Stoning is punishment usually reserved for adulterers. Last month, ISIS reportedly stoned a woman to death in Raqqa after she was accused of committing adultery. She was killed in front of her father while onlookers videotaped it.
"[ISIS] has extreme tactics in terms of its indiscriminate violence against civilians. And it has extreme political preferences in terms of its puritanical Islamist-inspired views," said Max Abrahms, a Northeastern University professor who studies jihadist groups. "Stoning is an extreme tactic and it was apparently carried out because of the extremeness of the group's moral beliefs (or perhaps immoral beliefs would be more accurate)."
Discrimination against Syria's LGBT community is not unique to ISIS. Homosexuality is punishable under Syrian law and the maximum sentence is a very rare three years in prison. However, like nearly every other aspect of life in Syria, this changed at the start of the war.
In an interview with Vice last year, Shadi, 27, described the Syrian regime's push to crush the opposition by calling them homosexuals. Shadi was from battle-torn Deir el-Zour and had recently moved to the then Jabhat al-Nusra safe haven of Raqqa. Raqqa is now ISIS' de facto headquarters and the site of some of the grimmest scenes of the civil war.
"Homosexuals are the easiest target, which all Syrians would agree with," Shadi said. "The regime started a homophobic campaign to say that the revolution is immoral because people who own the news channels, which are supporting it, are homosexuals. They went further by saying that everyone who is active in the revolution is gay."
Rebel groups and army divisions have risen and fallen and allegiances have shifted since Shadi's interview, but the situation for Syria's LGBT community remains perilous.
© Copyright IBTimes 2023. All rights reserved.
FOLLOW MORE IBT NEWS ON THE BELOW CHANNELS