ISIS In Yemen: Car Bomb Blast In Sanaa Kills At Least 28 People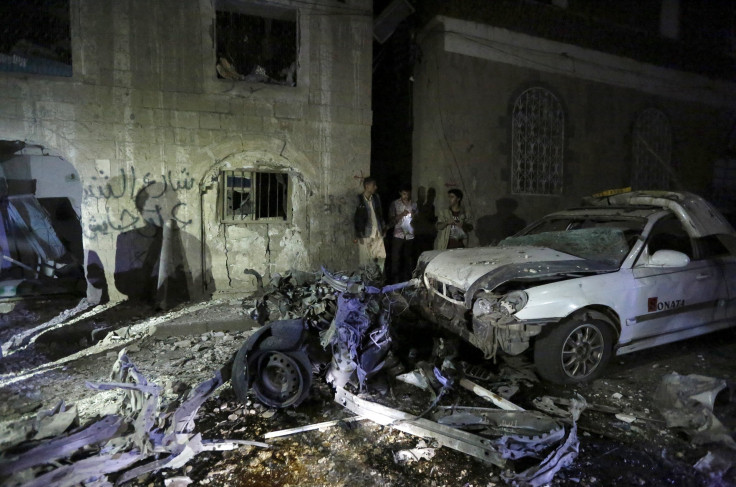 At least 28 people were killed by a car bomb in Yemen's capital city of Sanaa late on Monday, Agence France-Presse (AFP) reported. The Islamic State group claimed responsibility for the attack, which it said targeted a "Shiite nest" of Yemen's "Houthi apostates."
The attack by the Sunni militant group, which considers Shia Muslims as heretics, reportedly targeted Houthi rebel leaders Faycal and Hamid Jayache, AFP reported. It is not yet clear whether the two leaders survived the attack.
"It was an explosive placed inside a car … that had been parked here since about eight in the evening and no one paid attention to it," an eyewitness, identified as Yehia Ali, told Reuters. "At approximately eleven thirty we heard a loud explosion, it was a truly powerful explosion. We came out to see what happened and the homes were severally damaged."
The Houthis are allied to Yemen's former president Ali Abdullah Saleh. They are fighting Yemen's current President Abed Rabbo Mansour Hadi, who is living in exile in Riyadh. A military alliance led by Saudi Arabia has been bombing Houthi positions in Sanaa since March. However, the airstrikes have failed to dislodge the rebels from the capital.
ISIS has, in the past, frequently targeted Houthis in Sanaa, which has been under the control of the rebels since September last year. Earlier in June, ISIS also claimed responsibility for an attack on a mosque in the old city of Sanaa, when at least two people were killed and 16 others were wounded.
In recent weeks, ISIS has ramped up attacks as part of its Ramadan campaign to expand beyond Iraq and Syria. On Friday, the group claimed responsibility for attacks in Tunisia, Kuwait and France, which killed a total of over 60 people.
© Copyright IBTimes 2023. All rights reserved.