Islamic Group Wants To Name New Mosque In Moscow After Putin; Russian Muslims Complain About Too Few Places Of Worship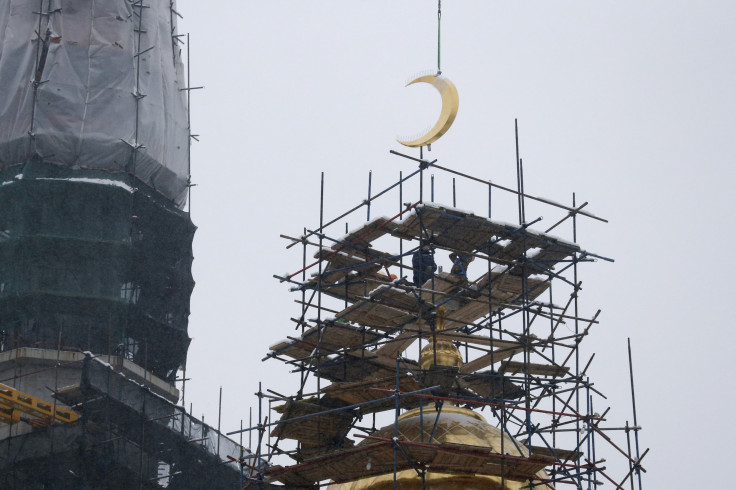 A Muslim group has sought permission to build a new mosque in Moscow and name it after Russian President Vladimir Putin. The United Islamic Congress of Russia has filed the request with Moscow Mayor Sergei Sobyanin, a frequent critic of Muslim immigrants, according to media reports.
Sobyanin has said the "excessive" number of Muslim newcomers to Moscow was "harmful" and that no new building permits for mosques would be granted. "It has turned out that the praying Muslims are not at all Russian citizens and they are not Moscow residents. They are labor migrants. There are only 10 percent of Moscow residents among them and building mosques for everyone who wants it – I think this will be over the top," Sobyanin said in an interview with Moscow's Echo radio in 2013.
He continued: "Muscovites now get irritated by people who speak a different language, have different manners, with aggressive behavior. This is not purely ethnic, but this is connected with some ethnic traits."
Understandably, Sobyanin is unpopular among some Muslim leaders. Nafigulla Ashirov, then co-chairman of the Councils of Muftis of Russia, told the Russian News Service in 2013 that Muslims took exception to the mayor's comments about migrants.
Muslims make up roughly 14 percent of Russia's overall population of 143 million and are the country's second-largest religious group. Russia is also home to the largest Muslim population in Europe, according to Foreign Affairs.
Moscow counts about 300,000 Muslims of varied ethnicities among its nearly 17 million residents. The growing population means there are often hourlong lines to enter Moscow's mere six overcrowded mosques.
"There are not enough mosques in the city" to serve the Muslim population, Rushan Abbyasov, chief of staff of Russia's Council of Muftis, the official Muslim clerical body, told the Christian Science Monitor. "There should be at least eight of them."
Most recently, some Muslim leaders have started a fundraising campaign to open two mobile mosques and six small stationary ones, the TASS news agency reported earlier this month. "The rhythm of the modern city and the small number of places of worship don't always allow Muslims to pray on time," the organizers were quoted as saying. Muslims are supposed to pray five times daily.
© Copyright IBTimes 2022. All rights reserved.
FOLLOW MORE IBT NEWS ON THE BELOW CHANNELS