Islamic State Captures More Than A Third Of Kobane As Clashes Continue; 21 Dead In Turkey Protests Over ISIS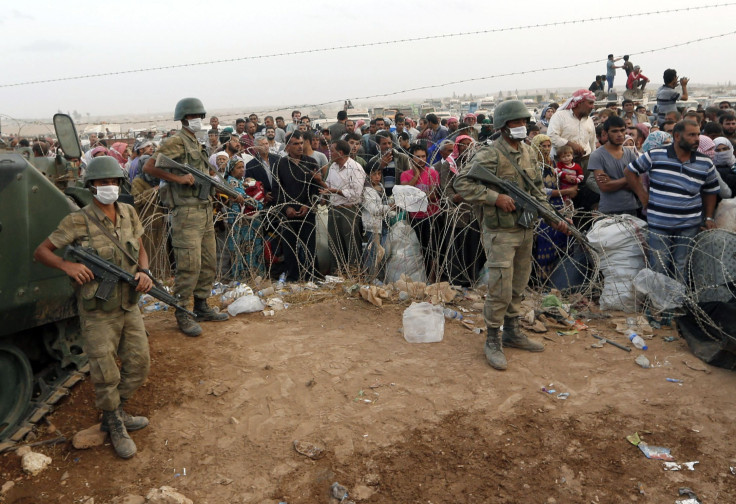 Update as of 6:25 a.m. EDT: Amid increasing pressure on Turkey from the United States and its allies to ramp up efforts against the Islamic State group in Syria, Foreign Minister Mevlut Cavusoglu said Thursday that it is "not realistic to expect Turkey to conduct a ground operation on its own," according to media reports.
"We are holding talks. Once there is a common decision, Turkey will not hold back from playing its part," he reportedly said, after meeting NATO Secretary-General Jens Stoltenberg in Ankara, adding that Turkey had, in recent weeks, taken in more than 1.5 million refugees from Syria and Iraq, including 200,000 Syrians from the Kurdish-populated town of Kobane.
He also reportedly urged pro-Kurdish protesters in Turkey "to evaluate who's actually siding with the people of Kobane" and said that Turkey had "never acted reluctantly" in its fight against the Islamic State group.
Militants of the Islamic State group have captured more than a third of the Syrian border town of Kobane, the Syrian Observatory for Human Rights said Thursday, as fierce clashes between Kurdish fighters and ISIS militants continue in the eastern districts of the town.
"ISIS control more than a third of Kobane. All eastern areas, a small part of the northeast and an area in the southeast," Rami Abdel Rahman, director of the Observatory, told Reuters.
On Wednesday, the U.S. Central Command had said that it "continues to monitor the situation in Kobane closely" and added that "Indications are that Kurdish militia there continue to control most of the city and are holding out against ISIL (Islamic State)."
It also added, in a statement released late Wednesday, that warplanes from the U.S.-led coalition had carried out eight airstrikes near Kobane in an attempt to push back militants of the Islamic State group.
The airstrikes, which were carried out with Jordan's assistance, "destroyed five ISIL armed vehicles, an ISIL supply depot, an ISIL command and control compound, an ISIL logistics compound, and eight ISIL occupied barracks," according to the statement.
Meanwhile, at least 21 people have been killed in clashes between pro-Kurdish demonstrators and security forces in major cities across Turkey, where riots broke out on Monday after militants of the Islamic State group breached the Syrian border town of Kobane, according to media reports.
Curfew has been declared in six provinces in eastern Turkey, after protesters, belonging to the Kurdish minority, set fire to buses and cars, and pelted the police with stones, according to local media reports.
The demonstrators reportedly demanded that the Turkish government, which has so far refused to join the U.S.-led coalition against the Islamic State group, do more to prevent the town of Kobane from falling under the control of militants from the jihadist group.
© Copyright IBTimes 2022. All rights reserved.
FOLLOW MORE IBT NEWS ON THE BELOW CHANNELS