Violent Protests In Turkey As Kurds Demand More Support Against Islamic State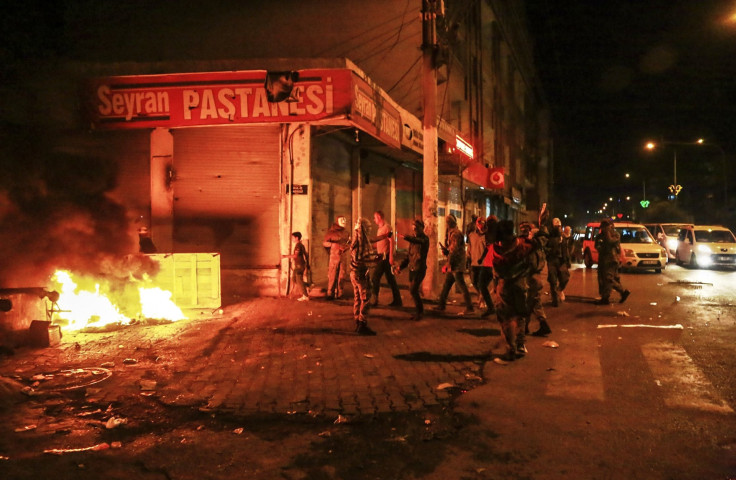 At least 14 people are dead as the result of clashes between Turkish police and Kurdish protesters in Turkey, the Associated Press reported. The demonstrators were demanding the Turkish government do more to prevent the Syrian-Kurdish town of Kobane from falling to Islamic State militants.
Police in Turkey tried to subdue protesters in several towns and cities, primarily in the country's predominantly Kurdish eastern and southeastern provinces, with tear gas and water canons. The deadliest violence took place in Diyarbakir, the largest Kurdish city in the southeast, where eight people were reported killed.
But demonstrators also rioted in Istanbul and Ankara, the country's capital, where 30 people were injured and nearly 100 were detained, a government news release said.
Turkey's Dogan news agency reported protesters in various Turkish cities burned cars and damaged businesses, prompting riot police to deploy tear gas to disperse them. One demonstrator in Istanbul was hospitalized after being hit in the head by a gas canister, Dogan reported.
Government authorities imposed curfews in several predominantly Kurdish cities, the BBC reported. The clashes are nothing new. Kurds in Turkey have been fighting for three decades for independence.
The protests by Kurds extended to Europe. In Brussels, about 100 demonstrators broke into the European Parliament Tuesday while 600 Kurds demonstrated in Berlin. About 500 marched from the Turkish consulate to the U.S. consulate in Frankfurt. Germany is home to the largest population of Kurds in Western Europe. Other protests were held in France, Norway, Sweden and Finland.
While the U.S.-led coalition is conducting airstrikes against Islamic State militants, Kurdish protesters say they don't believe Turkey and other governments are doing enough. Turkish President Tayyip Recep Erdogan pressed the coalition for an intervention by ground troops Tuesday, saying the airstrikes alone were not sufficient to keep Kobane from falling to militants. But Erdogan said his country would not get more involved in the Islamic State conflict unless the U.S. lent more support to rebels trying to overthrow Syrian President Bashar Assad.
© Copyright IBTimes 2023. All rights reserved.
FOLLOW MORE IBT NEWS ON THE BELOW CHANNELS