Islamic State Group In Gaza: ISIS Affiliate Gains Foothold In Palestine Amid Attacks On Israel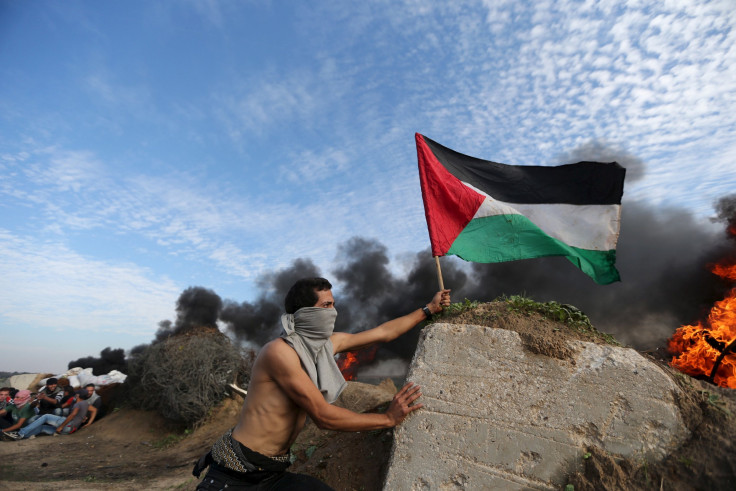 The Islamic State group has gained a foothold in the Gaza Strip, directly challenging Hamas' rule over the small area of embattled land. A small group calling itself the Sheikh Omar Hadid Brigade, an affiliate of the terrorist group, aka ISIS, has conducted attacks against Israeli military targets that have largely mirrored those conducted by Hamas in the past. The brigade has gained a hardcore following among Palestinians who see it as a better model to follow in order to gain full autonomy from Israeli rule, according to a report Wednesday by the Daily Beast.
Some people are looking "to the model of ISIS, who has carved a state out of Iraq and Syria in spite of a global coalition against them, and see it as a way of achieving autonomy and ending the situation they're in," said Waleed al-Modallal, associate professor of political science at Gaza's Islamic University and an expert on the religious nature of the Israeli-Palestinian conflict. "The things ISIS does are against our culture as Palestinians; however, frustration can lead people to make a decision too quickly."
The group, which is also inspired by a version of the ISIS-followed Salafist movement of Sunni Islam, actually precedes ISIS. It began by setting up a mosque in the conservative city of Rafah near where the Egyptian region of Sinai meets Gaza. One of the main preachers at the mosque was killed during Hamas raids in 2009 after he attempted to declare a separate Islamic emirate in the city. At that time the group was linked to al Qaeda.
Early last month, a member of the ISIS affiliate group reportedly fired at Israel a Grad rocket, a far more advanced weapon than is normally used by Hamas, which has struggled to get weapons into Gaza because of the strict Israeli blockade. In response to the attack, Israel bombed a Hamas training camp, killing a five-month-pregnant woman and her 3-year-old daughter.
Despite the aggressive approach of the affiliate, one which Hamas has officially condemned in an attempt to gain autonomy by more peaceful means, the group is rising in popularity.
"For years, they were 'quiet'; they didn't get involved in politics," Ahmed Yousef, a senior Hamas figure, said. Then, "when Hamas won the Palestinian elections in 2006, some of them decided to involve themselves."
The increased attacks from the affiliate are endangering the fragile peace that exists in Gaza and are encouraging figures like Israeli President Benjamin Netanyahu to claim that Hamas and ISIS are working together. That claim has angered Hamas supporters. "We condemn any actions, especially the murder of innocent women and children, that al Qaeda or [ISIS] use," Yousef said.
© Copyright IBTimes 2023. All rights reserved.