Islamic State: ISIS Makes Gains On Rebel Strongholds Near Aleppo And Executes 700 From Syrian Tribe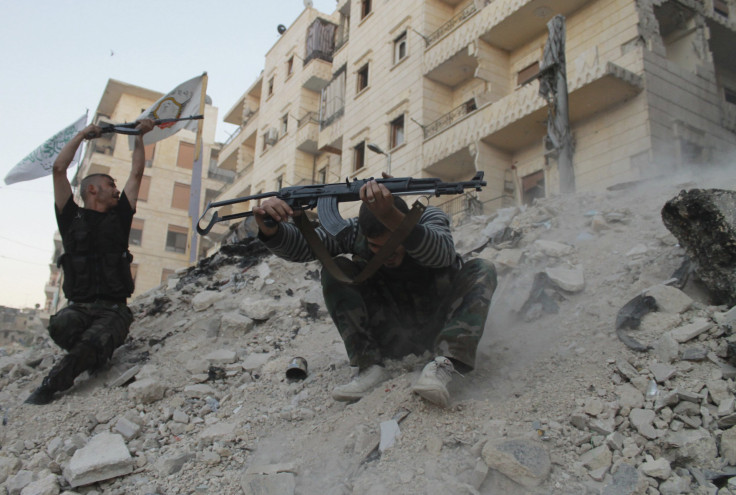 The Sunni extremist group calling itself the Islamic State made striking advances in Syria Friday and Saturday. Activists said the militants took over three villages near the town of Marea in the Aleppo province. Meanwhile, the Islamic State killed 700 members of the al-Sheitaat tribe in eastern Syria, the London-based Syrian Observatory for Human Rights told Reuters.
Friday's advances in the Aleppo area are just the latest in a series that have given the Islamic State an edge over other rebel groups in the area. Its most recent gains could deliver a serious blow to its rivals' supply lines to Turkey, the Associated Press reported. The militant group formerly known as the Islamic State of Iraq and Syria, or ISIS, is now within striking distance of the major rebel stronghold in the city of Aleppo.
Also Friday, the Islamic State killed 700 members of the al-Sheitaat tribe, who they began battling in July, when the insurgent group seized two oil fields nearby. Among the 700 slain, most were civilians, according to the Syrian Observatory for Human Rights. Last week, the Islamic State executed 25 people from the same tribe, two of which they crucified for the crime of "dealing with apostates," AP said.
"Those who were executed are all al-Sheitaat," observatory director Rami Abdelrahman told Reuters. "Some were arrested, judged and killed."
The Syrian National Coalition called for international help for the Free Syrian Army in Syria Saturday after the Islamic State's advances and its systematic slaughtering of the al-Sheitaat tribe.
"We call on the international community to use the American air force, or those of any other country to support the Free Syrian Army," the Syrian National Coalition said in a statement.
The coalition appeared to hope it could use the Islamic State's gains to inspire a situation in Syria similar to that in Iraq, where U.S. airstrikes are targeting insurgent strongholds in Kurdish territory. However, the U.S government has resisted intervention in the Syrian Civil War, even after the Islamic State declared parts of the country to be part of its caliphate.
One reason for the difference in approach centers on oil: Comparatively speaking, Iraq has a lot and Syria has a little. Another reason centers on the fact the U.S. does not have the same kind of relationship with any faction in Syria that it does with the Kurdish Regional Government in Iraq.
More than 170,000 people have died in the Syrian Civil War.
© Copyright IBTimes 2023. All rights reserved.