Kidnapped American Journalist Austin Tice Is Still Missing In Syria After Two Years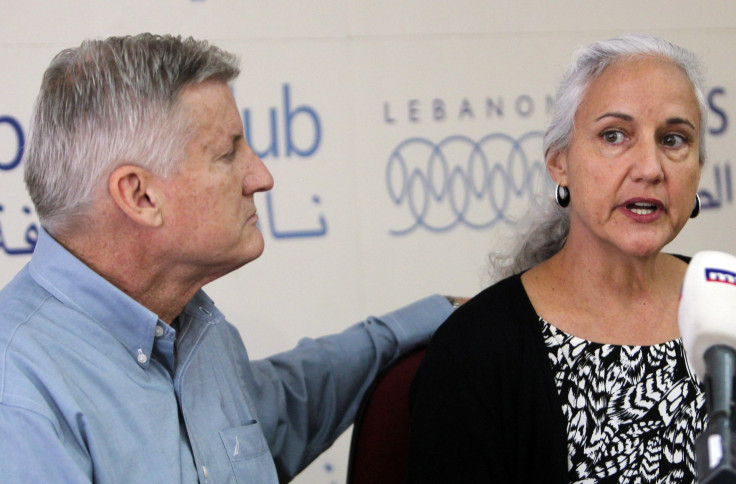 Christy Wilcox clicked through a report that contained graphic images of corpses of people who had been starved and beaten, allegedly by the Syrian government. The report by an independent legal team, which was released in January, said a team of experts found evidence of torture and killing of prisoners by the Syrian military.
Wilcox, a television reporter in Yuma, Arizona, said she tries to keep her mind focused on her work, but this week, she can't help but think about her friend -- Austin Tice, a 33-year-old journalist who has been missing in Syria for two years and is perhaps imprisoned and in the hands of the Syrian regime.
According to a Vanity Fair article published in May, nothing has been heard about Tice's whereabouts since he went missing on August 13, 2012. Family and friends of the journalist lost contact with him just after his birthday, Aug. 11. Various stories have circulated. The U.S. State Department said in October 2012, after a video was published on YouTube that showed Tice apparently in the hands of his captors, that the video could have been staged, and that it believed Tice was in the hands of the Assad regime.
Tice is just one of dozens of journalists to have been kidnapped during the conflict. According to Reporters Without Borders, 18 journalists are still missing in Syria. Since Tice's kidnapping, dozens of other journalists have gone missing in the country.
On Aug. 11, 2012, Tice was celebrating his birthday with the rebels from the Free Syrian Army (FSA) he had befriended and lived with for nearly two months. He had entered Syria on May 23.
On his birthday he tweeted that he was at a pool party with members of the FSA listening to Taylor Swift -- his favorite singer.
In the days following his birthday, Tice went missing. He had spent nearly two months in the country, with limited time off. He hired a fixer, Mahmoud, who introduced him to the FSA soldiers and got him acclimated to the Syrian environment. The country had been embroiled in a civil war for more than a year, at that point. (Full disclosure: Mahmoud was also the fixer for this journalist when she traveled into Syria in 2012).
Tice had told his editors that he was planning on trying to get out of the country and would try to travel through the border with Lebanon, at the time one of the most dangerous escape routes. No one has heard from him since.
By August 2012, the war in Syria had already killed tens of thousands of people; some were Western journalists. In February of that same year, Sunday Times reporter Marie Colvin was killed while reporting from the besieged neighborhood of Baba Amr in Homs.
Jeroen Oerlemans, a Dutch freelance photographer, was one of the first journalists to be kidnapped in Syria with British photographer John Cantlie. The two were held in a camp by a group of foreign jihadists.
"Kidnapping was really not on my mind at all at that time. Of course there had been some cases of kidnapping in other countries, but either isolated or related to specific interests or groups," Oerlemans said by email. "I think we were among the first journalists to be taken by an opposition group. Only after some time we realized that they didn't care what we were, but that we could serve their purposes just because we were westerners."
At least 23 journalists were killed in Syria in 2013, according to the Committee to Protect Journalists, making it the most dangerous place on Earth for journalists.
"In most other countries the situation on the ground is more clear, more transparent. In my opinion Syria is a quagmire, a dark place that I can't fully comprehend and where it is close to impossible to fully trust someone," Oerlemans said.
With the increasing number of journalists kidnapped in Syria, many media outlets have pull their correspondents out and freelancers are now more wary of entering.
"I never went back to Syria after my kidnapping," Oerlemans said. "Initially I did give it some thought, but I felt the danger had become too great, especially the kidnapping danger."
At a press conference last week White House Press Secretary Josh Earnest said that president Barack Obama was aware of the situation and continued to track it.
"These kinds of situations are on the radar of the American foreign policy and national security apparatus here in the Obama administration. It is something the president on a regular basis is updated on," he said. "We continue to spend a great deal of time and effort and resources to safely ensure the return of those American citizens who are being held hostage around the globe."
FOR FREE to continue reading
✔️ Unlock the full content of International Business Times UK for free
offer available for a limited time only
✔️ Easily manage your Newsletters subscriptions and save your favourite articles
✔️ No payment method required
Already have an account? Log in
© Copyright IBTimes 2023. All rights reserved.