Israel Arrests 4 Palestinians After Alleged Hamas Plot To Assassinate Lieberman In West Bank Foiled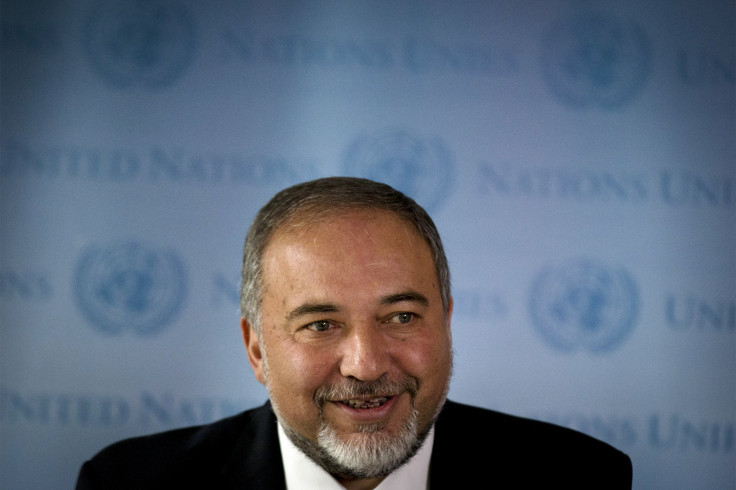 Four Palestinians were arrested in the occupied West Bank on suspicion of planning to assassinate Israeli Foreign Minister Avigdor Lieberman, media reports said Friday, citing officials. The news comes amid escalating tensions between Israel and Palestinians following an attack on a synagogue in East Jerusalem on Tuesday.
The alleged plot by Hamas, which controls the Gaza Strip, was aimed at killing Lieberman by attacking his convoy with an anti-tank rocket while he traveled to his house in a Jewish settlement in West Bank. The assassination plot was reportedly planned during the recently concluded 50-day war. Israel's intelligence service Shin Bet reportedly said, in a statement, that it had identified three of the people arrested as Hamas members, who had planned to purchase a rocket-propelled grenade, to carry out the attack.
"We have no information about this issue. However, we stress that leaders of the Occupation (Israel) who are responsible for the killing of children and women and for defiling the sacred sites are legitimate targets for the resistance," Hamas spokesman Sami Abu Zuhri said, according to Reuters. The Islamic organization has neither confirmed nor denied the allegations.
Shin Bet reportedly said that the detainees had confessed during interrogation that they had hoped to assassinate Lieberman, an action that "would relay a message to the State of Israel that would bring about an end to the Gaza war." Israeli military has charged three of the arrested Palestinians with the alleged plot, CNN reported Friday. Shin Bet reportedly described the alleged plot as an indication that Hamas is stepping up its activities in West Bank and adjoining East Jerusalem.
Meanwhile, the Palestinian National Authority arrested nearly 30 suspects in a span of 72 hours for allegedly planning terror attacks against settlers, The Times of Israel reported Thursday. Sources reportedly said that the arrests, primarily focused in Hebron, about 18 miles south of Jerusalem, were aimed at restoring peace in the area. Most of those arrested were Hamas members, The Times of Israel reported.
© Copyright IBTimes 2023. All rights reserved.
FOLLOW MORE IBT NEWS ON THE BELOW CHANNELS