Israel Continues To Blast Gaza With No Cease-Fire In Sight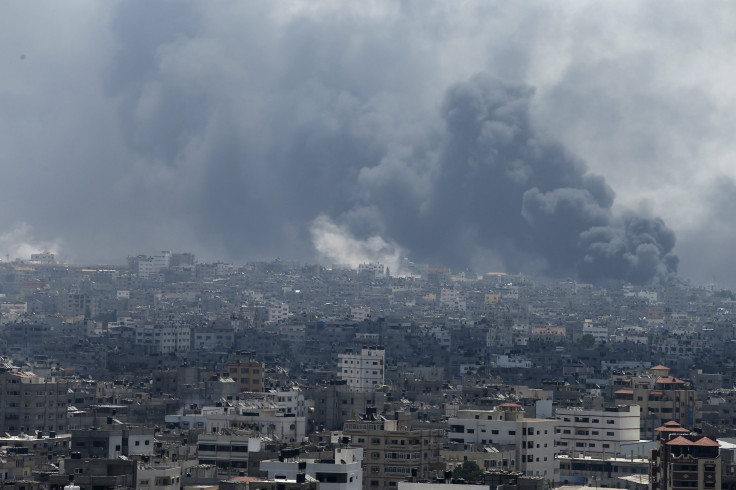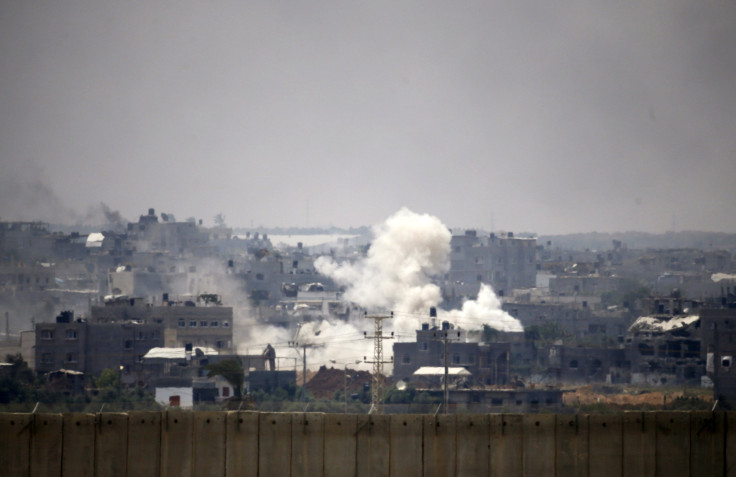 There is still no cease-fire agreement between Israel and Gaza two weeks after Israel's "Operation Protective Edge" began. The death toll reached 616 in Gaza and the Israel military said at least 27 soldiers have been killed since the ground invasion began last Thursday.
U.S. Secretary of State John Kerry was in Cairo Tuesday to help broker a cease-fire to no avail. Meanwhile, U.N. Secretary-General Ban Ki-moon visited Israeli Prime Minister Benjamin Netanyahu and is set to meet with Palestinian President Mahmoud Abbas Wednesday in the West Bank.
Despite international condemnation of both sides, cease-fire efforts have so far failed.
"A cease-fire is not near," Justice Minister Tzipi Livni, a member of Netanyahu's inner security cabinet, told Israel Army Radio. "I see no light at the end of the tunnel.
Palestinian media reported one of Abbas' aides in Cairo to help with Egypt's cease-fire proposal said both sides rejected the plan. Hamas refuses to accept any truce that will not immediately end Israel's eight-year air, land and sea blockade.
"Hamas ... is sticking to its position. But we agreed to continue communicating with them, so we could perhaps agree on a final draft," he said.
The U.N. Human Rights Council is slated to hold an emergency meeting Wednesday to issue a strong condemnation of Israel's actions in Gaza, Haaretz reported. The proposal will call on the council to set up an investigation into war crimes and violations of international law by Israel. For the meeting to be called, a third of the council had to agree. Although the United States, Canada, Australia and some European Union states are set to oppose the draft, Palestinians say they believe they have a majority with the 17 states who voted for the meeting.
Tensions with the international community are growing, prompting airlines all over the world to cancel flights to Tel Aviv indefinitely. So far, the Federal Aviation Administration has suspended flights for the next 24 hours, and the European Aviation Safety Agency "strongly recommends" a ban on flying. Air France, KLM, Lufthansa, Air Canada, United Airlines, U.S. Airways and Delta have canceled flights in and out of Tel Aviv's Ben Gurion Airport.
Haaretz said Netanyahu has asked Kerry to help reverse the FAA's decision.
Amid international calls to end the violence, Israel continues to pound Gaza, now having attacked more than 5,000 housing units. The most recent attacks include a string of sea strikes at the Gaza port, home to the Roots hotel where many foreign journalists are staying. Gaza Sunday saw some of the heaviest bombing yet in Shejaiya, one of Gaza's poorest and most populous neighborhoods, killing at least 60 people. The bombing began at 9 p.m. and continued into the next afternoon.
The Israeli military said it bombed the home of Mohammed Deif, the head of Hamas' military wing, the Izz ad-Din al-Qassam Brigades.
Israel's ambassador to the United States said Monday night the Israeli army deserved the Nobel Peace Prize for its behavior in Gaza.
"Some are shamelessly accusing Israel of genocide and would put us in the dock for war crimes," Ambassador Ron Dermer said at the Christians United for Israel Summit in Washington. "But the truth is that the [army] should be given the Nobel Peace Prize … a Nobel Peace Prize for fighting with unimaginable restraint."
© Copyright IBTimes 2022. All rights reserved.
FOLLOW MORE IBT NEWS ON THE BELOW CHANNELS