Israel Defense Minister Moshe Yaalon Quits, Cites 'Lack Of Faith' In PM Netanhayu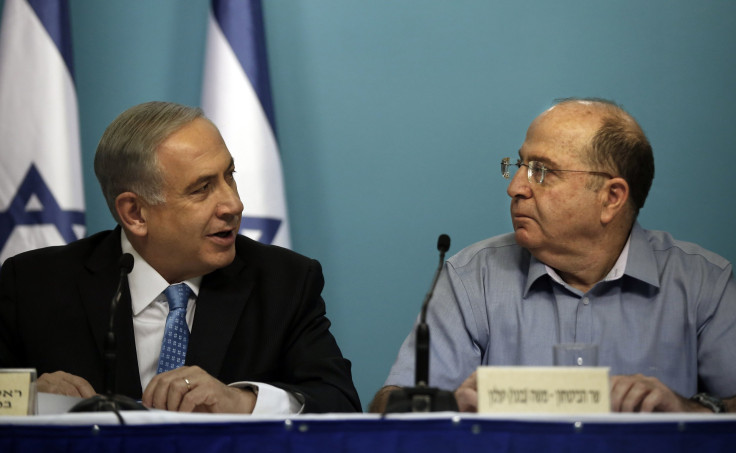 Israel Defense Minister Moshe Yaalon announced his resignation Friday, citing lack of faith in Prime Minister Benjamin Netanhayu. The announcement came after Netanyahu proposed to replace him with a political ally in order to expand the coalition government.
There has been no official statement but according to unidentified sources cited by Reuters, the prime minister offered the post to ultra-nationalist politician Avigdor Lieberman Wednesday. If Lieberman's Yisrael Beiteinu party joined the ruling coalition, the government — run by Netanyahu's Likud party — would have 67 of the parliament's 120 seats, up from the current 61.
Yaalon said on Twitter (in Hebrew): "I informed the PM that after his conduct and recent developments, and given the lack of faith in him, I am resigning from the government and parliament and taking a break from political life."
Netanyahu and Yaalon had reportedly clashed this month over the trial of an Israeli soldier who shot dead a wounded Palestinian assailant lying on the ground. Yaalon spoke out against public calls for clemency while Netanyahu took a more reserved position.
The Guardian reported that before Yaalon resigned, there was speculation about him being offered the post of foreign minister by Netanyahu, a cabinet position currently occupied by the prime minister himself.
A poll aired by Israel's Channel 10 television Thursday reportedly found 51 percent of Israeli Jews saw Yaalon as best suited for defense minister, while only 27 percent preferred Lieberman. Yaalon is a former chief of Israel's armed forces with reportedly good relations with the Pentagon. Lieberman, on the other hand, has no military experience and has been known for his hawkish stance against Palestinians, Israeli Arabs and Egypt.
An Egyptian diplomat Thursday told Reuters that Cairo was "shocked" at the idea.
Reports suggest that Yaalon's exit could affect the domestic and Western confidence in the ruling government. However, U.S. Department of State spokesperson John Kirby said in a press briefing: "We look forward to working with the prime minister's government no matter who he selects, and to looking for ways to continue to deepen the very close, very strong bilateral relationship that we have with Israel."
© Copyright IBTimes 2023. All rights reserved.