Israel Election 2015: Netanyahu Video Says Position In Danger, Arab Voters 'Coming Out In Droves To The Polls'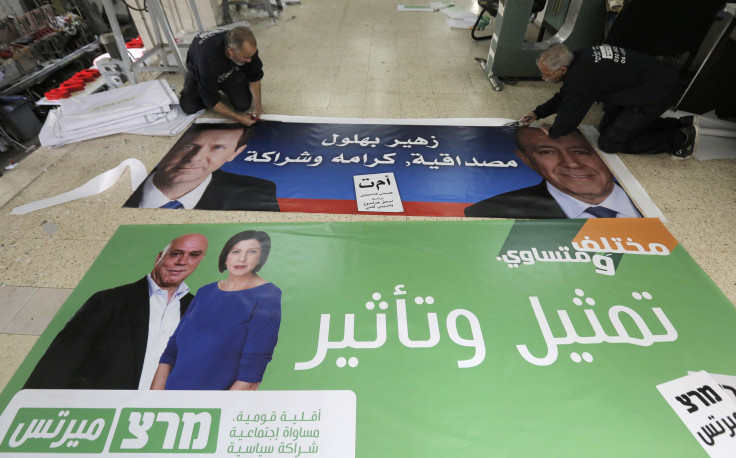 Amid polls that show his Likud party trailing, Israeli Prime Minister Benjamin Netanyahu implored supporters Tuesday to vote and suggested that he may lose because of high turnout among Arab Israeli citizens. Long lines have been reported in Arab areas of Israel, according to Haaretz, and the rising Arab slate is seen by Netanyahu and others on the Israeli right as a threat to the Jewish state. Meanwhile, Netanyahu's opposition accused him of racism.
In a video posted to Facebook Tuesday afternoon in Hebrew, Netanyahu claimed that the rival Labor party was busing Arab voters to the polls. "The right-wing government is in danger. Arab voters are coming out in droves to the polls. Left-wing organizations are busing them out," Netanyahu said, according to an English translation in the Israeli newspaper Haaretz. "Get out to vote, bring your friends and family, vote Likud in order to close the gap between us and Labor."
Avigdor Lieberman, who serves in Netanyahu's Likud-led government as foreign minister, responded to the prime minister on Twitter. "Netanyahu also knows that if the Arabs are voting in droves, only a strong Lieberman can stop them," he said, according to Haaretz.
Lieberman, leader of the Yisrael Beitenu party that is based on Russian immigrants, has a long record of inflammatory statements toward Arab Israelis, including a recent comment that suggested Israeli Arabs with sympathies toward Palestinian Authority be beheaded. "Those who are with us deserve everything, but those who are against us deserve to have their heads chopped off with an ax," he said last week.
The Zionist Union, a center-left alliance between the Labor and Hatnuah parties that represents Likud's main opposition, said Netanyahu's statement amounted to racism. "No other Western leader would dare utter such a racist remark," wrote high-ranking Zionist Union member Shelly Yachimovich on Twitter, according to the New York Times. "Imagine a warning that starts, 'Our rule is in danger, black voters are streaming in quantity to the polling stations.'"
© Copyright IBTimes 2023. All rights reserved.