Israel and Hamas Announce 'Humanitarian Cease-Fire' After Four Boys Killed On Gaza Beach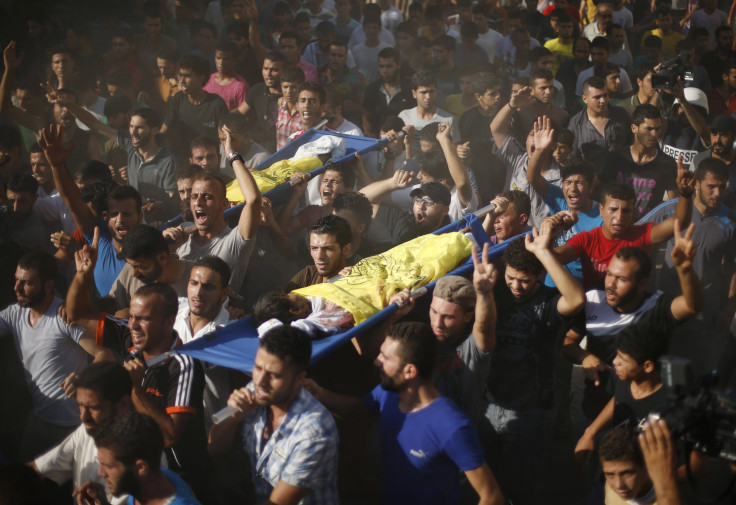 On the evening of the eighth day of "Operation Protective Edge," Israel has agreed to a five-hour cease-fire for humanitarian aid, beginning Thursday at 10 a.m. local time.
Later Wednesday night, Hamas spokesman Sami Abu Zukhri said that Hamas will also comply with the temporary break.
"The Palestinian factions agreed to accept the offer from the United Nations for a cooling-down on the ground for five hours starting from 10 in the morning," he told AFP.
The U.N. special coordinator for the Middle East Peace Process, Robert Serry, proposed the short truce in an effort to allow food and medical supplies into Gaza, where the death toll is now at least 213 with thousands more injured, according to Palestinian officials.
News of the cease-fire came after four Palestinian children were killed on a beach in the Gaza strip. The Israeli Defense Forces (IDF) said they launched an investigation into their death. The four boys, all between the ages of 9 and 11, were all from the same family, two were brothers and the others were cousins.
"[The IDF] has no intention of harming civilians dragged by Hamas into the reality of urban combat. We are carefully investigating the incident in question," the IDF said in a statement. "The target of this strike was Hamas terrorist operatives … the reported civilian causalities from this strike are a tragic outcome."
On Tuesday, the IDF made robo-calls and sent leaflets asking tens of thousands of people to evacuate their homes, warning them of incoming strikes. They have also gone to great lengths to describe all the ways in which they attempt to prevent civilian casualties, particularly their "roof-knocking" technique, where they drop a low-level explosive on the roof a building less than a minute before a strike.
© Copyright IBTimes 2023. All rights reserved.