Israel Lebanon Conflict: UN Peacekeeper Killed As Hezbollah, Israel Trade Fire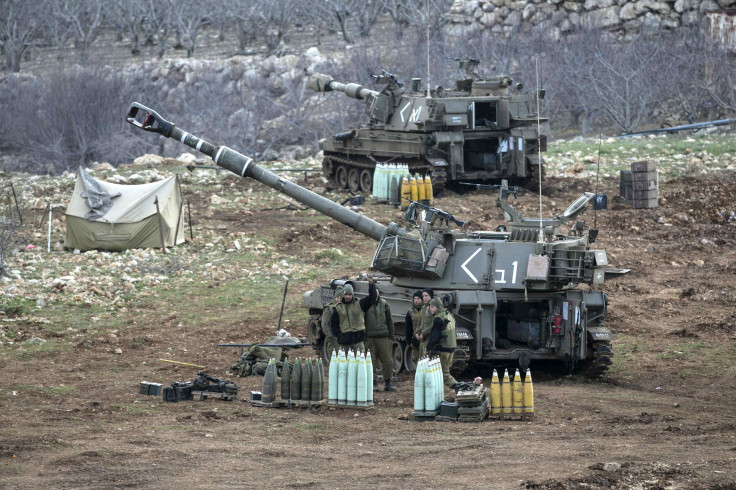 UPDATE: Two soldiers were killed and seven wounded in the Hezbollah attack on Israel, the Israel Defense Forces tweeted Wednesday:
Original story:
A U.N. peacekeeper was killed in southern Lebanon Wednesday in a death that might have stemmed from clashes between Lebanon and Israel, the Associated Press reported. Meanwhile, Israel struck back after a missile fired from Lebanon injured four Israeli soldiers, according to Reuters. The attacks occurred hours after Israel attacked Syrian army units near the Golan Heights in retaliation for rockets being launched toward Israel.
The peacekeeper with the United Nations Force in Lebanon was said to be a Spaniard, the AP reported, citing local media reports. There were no other details about the circumstances of the peacekeeper's death.
The killing occurred on the same day that the Lebanon-based Hezbollah militant group launched a missile into Israel, injuring four Israeli soldiers. The Hezbollah attack was the group's largest since a 34-day war with Israel in 2006, according to Reuters. The Hezbollah rocket hit a military vehicle.
Israel responded to the attack by firing at least 22 shells into an open area in southern Lebanon, a Lebanese security source told Reuters. Israeli Prime Minister Benjamin Netanyahu threatened action similar to the 50-day war in Gaza last summer if the attacks from "whoever is trying to challenge us on the northern frontier" continued. Netanyahu said Israel was "prepared to act powerfully on all fronts." "Security comes before everything else," he said.
Netanyahu added on Twitter: "At this moment the [Israel Defense Forces] responds to events in the north. We will not allow terrorists to disrupt the lives of our citizens and threaten their security. We will respond forcefully those who try to challenge us," according to the BBC.
Mortar bombs were reported to have struck an Israeli army position in Mt. Hermon in the Golan Heights, near Syria, according to Reuters. No casualties were reported in that attack.
The two attacks came after Israel claimed Syria fired rockets into its territory. Hezbollah is operating in Lebanon with the support of Syrian President Bashar Assad.
"Israel will hold responsible governments, regimes and organizations on the other side of our northern borders over any violation of Israel's sovereignty, or an attack on soldiers or civilians," Israeli Defense Minister Moshe Yaalon said last week.
© Copyright IBTimes 2023. All rights reserved.