Israel Operating In Syria? New Report Points To Signs Israel Is Providing Medical Care To Wounded Rebels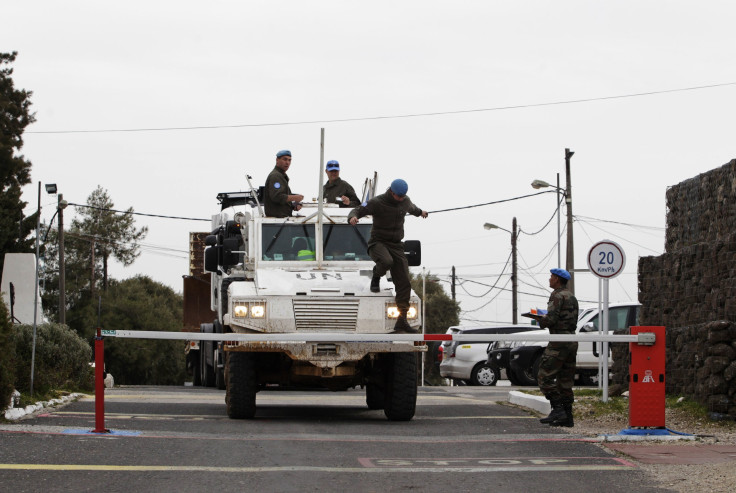 A new report from GlobalPost indicates that Israeli forces have been operating in "a non-combat capacity" beyond the demarcation line in the Golan Heights. The Israelis seem to be in the area to identify and provide medical care to wounded Syrian rebels.
The region immediately east of the Israeli-occupied Golan Heights is held by Syrian rebel forces. An anonymous Israeli source told GlobalPost the Syrians are taken into Israel to receive medical care and then transported back across the border.
"It's a terrible situation there. Injured people are dying in the field because of a lack of medical treatment. Sometimes they just bleed," retired IDF Col. Eshkol Shokron told GlobalPost. "If possible, caring for them on the border without bringing them into Israel is better. I think the army is doing things in the field."
Another IDF spokesman did not deny that forces might be operating across the Israel-Syrian truce line that has held since the 1973 war, but would not comment on whether they were operating in a military capacity, such as by flying drones.
"The IDF places a great deal of importance on the provision of humanitarian care when necessary. As such, we have provided initial medical assistance to a number of Syrians over the past few months," the spokesman told GlobalPost in an email.
Israel has been in a state of heightened alert since the beginning of the Syrian civil war in March 2011, concerned, by all accounts, not only about the possibility of spillover but of Syrian President Bashar al-Assad's notorious chemical weapons falling into the hands of Hezbollah in Lebanon. Hezbollah, one of the ruling parties in the Lebanese parliament, is one of the many Arab groups that has sworn itself to destroying Israel, and has supported Assad despite the majority of the Lebanese public opposing him.
Israel has already carried out strikes in Syria in a very public way this year. In late January the Israel Air Force reportedly carried out a series of flyovers and air strikes on Syrian government convoys, thought to be carrying weapons across the border to Hezbollah in Lebanon. Israel Defense Force spokeswoman Avital Leibovitch refused to confirm that it was Israel who destroyed the trucks.
Israel and Syria do not have the best of relationships, and, in fact, have fought four wars in 1948, 1967, 1973 and 1982. Israel captured the Golan Heights from Syria in the 1967 war. The two countries never signed a peace treaty and do not have ambassadors to each other. During the Syrian civil war, Israel and Syrian forces have engaged on three occasions in November 2012 in the Golan Heights when Syrian tanks crossed the line, and when Syrian shells landed in the same area for the first time since 1967. Israel first complained to U.N. peacekeepers and then retaliated by hitting Syrian targets.
FOLLOW MORE IBT NEWS ON THE BELOW CHANNELS