Israel Police Allow Jewish Settlers To Attack West Bank Palestinians With Impunity, Human Rights Group Claims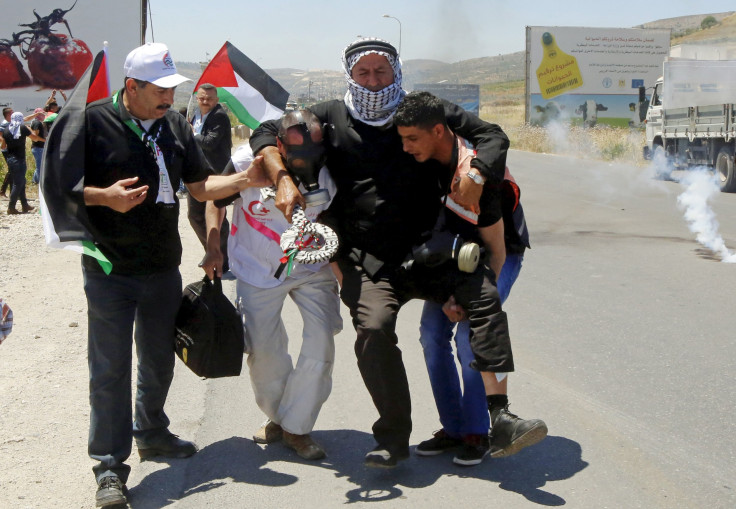 Official investigations into attacks against Palestinians by Jewish settlers do not result in criminal charges, and Israeli police are indifferent about such assaults, the human rights group Yesh Din said Monday. The group, which tracks conflict between Jewish settlers and Palestinians, said roughly 94 percent of Israel's investigations into such assaults end "without any indictments."
"Despite their legal obligations, the reality is that Israeli security forces in the West Bank frequently participate -- or stand idly by -- while violence against Palestinians is being committed," Yesh Din said in a statement. "Behind this indifference is a pervasive culture of impunity maintained by the various Israeli authorities operating in the West Bank." Yesh Din concluded that "this brand of violence is part of a sophisticated, wider strategy designed to assert territorial domination over West Bank Palestinians."
More than 85 percent of all Palestinian complaints are closed because investigators say they are unable to arrest suspects or to gather enough evidence to file an indictment. When indictments are served, conviction often results in very light sentencing, Yesh Din noted. "The probability that a complaint filed by a Palestinian from the Israeli police will lead to an effective investigation, the arrest of a suspect and his judgment is just 1.8 percent," the report claimed. "The report reveals a disturbing picture of the conduct of law enforcement in general."
Over the weekend, Israeli police and Palestinians in occupied East Jerusalem clashed as ultranationalists marched across the city to celebrate 48 years of Israeli occupation. At least four Palestinians were arrested, and Israeli police used batons and horseback units to disperse counterdemonstrators, according to Al Jazeera. The anniversary, known as Jerusalem Day, marks the occupation in the 1967 Six-Day War of Arab East Jerusalem.
"Jerusalem has always been the capital of the Jewish people alone and not of any other people," Israeli Prime Minister Benjamin Netanyahu said at an official Jerusalem Day ceremony.
Meanwhile, the official Palestianian news agency reported recently that Israeli settlers had chopped down about 800 Palestinian-owned olive trees near the town of Shuyukh, east of Hebron. The news agency quoted the Israeli human rights group B'Tselem as accusing Israeli security forces of failing to protect Palestinians from settler violence.
"In some cases, rather than restricting violent settlers, Israeli security forces impose restrictions on the Palestinians," the human rights group said, according to CNN.
© Copyright IBTimes 2023. All rights reserved.