Israeli Airstrikes On Gaza City Media Centers Flagged As Possible 'War Crimes'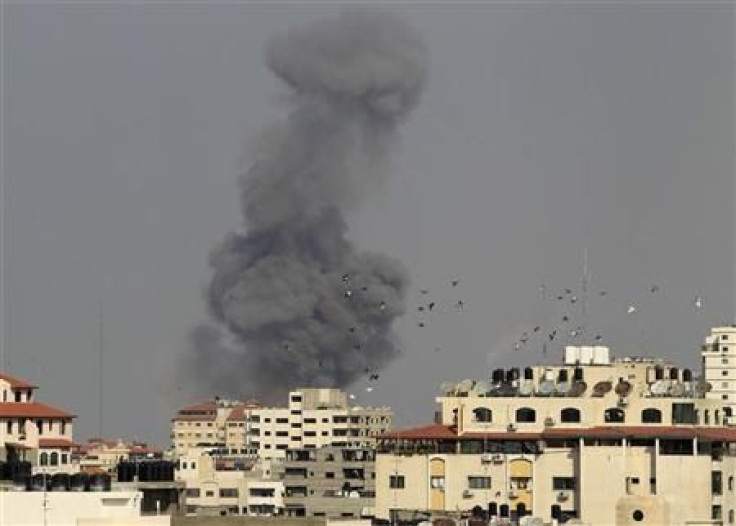 Both the Committee to Protect Journalists, or CPJ, and Reporters Without Borders, or RWB, sounded alarms over the Israel Defense Forces' deliberate targeting of two media centers in Gaza City Sunday during the continuing Hamas-Israel confrontation.
"Journalists are civilians and are protected under international law in military conflict," Robert Mahoney, New York-based CPJ's deputy director, said in a statement. "Israel knows this and should cease targeting facilities housing media organizations and journalists immediately."

Along the same line, Christophe Deloire, Paris-based RWB's secretary-general, said in a separate statement: "These attacks constitute obstruction of freedom of information. We remind the Israeli authorities that, under humanitarian law, the news media enjoy the same protection as civilians and cannot be regarded as military targets."
Deloire added: "We call for a transparent investigation into the circumstances of these airstrikes. Attacks on civilian targets are war crimes and serious violations of the Geneva Conventions. Those responsible must be identified."
In the first attack, around 1:30 a.m. local time, Israeli warplanes fired at least five missiles at the Al-Shawa Wa Hassri Tower, a building in the Gaza City neighborhood of Rimal that houses both local and international media organizations, RWB reported.
The missiles destroyed the 11th-floor offices used by Al-Quds TV. The station said six journalists were injured: Muhammad al-Akhras, Hazem al-Da'our, Khadar Al-Zahar, and Darwish Bulbul, all employees of Al-Quds; Hussein Al-Madhoun, a freelance photographer working for the Ma'an News Agency; and Ibrahim Labed, a reporter for the Safa news agency.
In the second attack, around 7 a.m. local time, Israeli warplanes fired at least two missiles at the Al-Shourouk building, aka the "Journalists' Building," RWB reported.
The missiles injured three employees of Al-Aqsa TV.
Among local and international media outlets whose offices were damaged by Israeli missiles Sunday were the Abu Dhabi-U.K. joint venture Sky News Arabia, the Abu Dhabi TV station, the German ARD TV station, the Palestinian Ma'an News Agency, the Reuters unit of U.S.-based Thomson Reuters (NYSE: TRI), the Russia Today TV network, and the United Arab Emirates-based Al-Arabiya, RWB said.
Both CPJ and RWB are focused on the freedom of information and the safety of those who serve as information providers around the world.
Meanwhile, Sunday has been the single deadliest day since the current conflict between Hamas and Israel broke out Wednesday, as 23 people have been reported killed in the Gaza Strip, BBC News said. Overall, 69 Palestinians have been killed because of Israeli airstrikes and three Israelis have been killed due to Hamas rocket attacks, the news agency said.
Check out the Israel Defense Forces' video on YouTube of its attacks Sunday on Gaza City media centers, which it labeled "IDF Pinpoint Strike on Hamas Operational Communications Infrastructure":

© Copyright IBTimes 2023. All rights reserved.